Lots of Anthem's core players have quit the game
Some of Anthem's most dedicated players have already quit the game for good.

Published Wed, Apr 17 2019 2:09 PM CDT
|
Updated Tue, Nov 3 2020 11:48 AM CST
Anthem is and has been a mess since launch. Our review expressed many of the issues Anthem suffers from, namely BioWare's misunderstanding of live service games. Thanks to glitches, an unrewarding loot cycle, and weird design flaws, gamers are leaving Anthem's in-game world behind.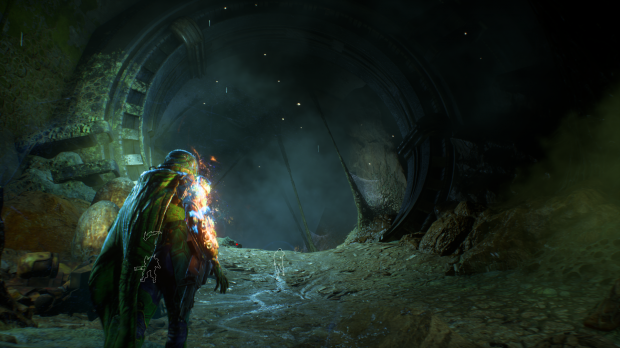 A portion of Anthem's players are leaving the game as BioWare struggles to keep up with feedback. The Anthem subreddit represents some of the game's most devout fans. Members are constantly sharing feedback, bugs, and ideas on how to fix the game. But their faith is wearing thin as the game seems moored in stagnant waters, and many have already quit the game.
According to a new poll that surveyed over 1,000 Anthem players on the subreddit, over half of the respondents have left the game entirely. 52% of the 1,059 surveyed gamers, or about 562 players, have quit the game for good. This is just a drop in the bucket to Anthem's playerbase, which probably stretches in the hundreds of thousands if not millions, but its a sampling of some of the game's most dedicated users.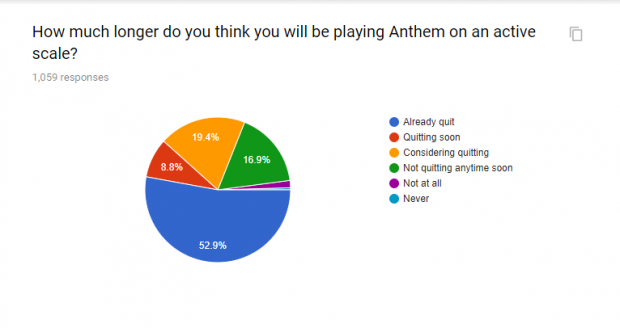 Every live game needs a core bunch of dedicated players that continually engage with the product over time. These are the bullish gamers who stick with the title through thick and thin, but it appears Anthem might be too thin for its own good right now. And these users are more likely to provide extra revenues through microtransactions to keep the game afloat outside of full game sales.
Of course the survey might not be 100% accurate. It's more of a baseline measure to quantify general sentiment than anything, and intent to play. Only BioWare knows for sure how many players Anthem currently has and I'm betting the metrics are surprising.
The real issue is how Anthem can continue as more and more competing live games roll out. The Division 2 likely poached a good portion of Anthem's players, and Borderlands 3 later this year could massively devastate BioWare's flagging shooter. Those attracted to Anthem's grind mechanics will undoubtedly jump to other titles that present similar features so Anthem's dev team has to get creative and find unique ways to re-engage consumers who bought the game.
It's just way, way too soon to have to worry about re-engagement right now. Anthem's timeline has been disrupted and instead of focusing on the present and the future of the game, BioWare is having to rebuild the game's past foundations in key ways.
Devs, take note: this is what happens when a game is born from strife, anxiety, crunch, and depression. Your environment shapes who you are, and you shape your games. Anthem's suffering is a direct result of developer suffering, and sadly a shipped product won't end that cycle, especially when it's a live game.
If you plant a bad seed in a live game it'll simply sprout into a confusing mess of a product that doesn't evolve over time, but falls apart. BioWare has to fix itself before it even tries to fix Anthem.
Related Tags