NVIDIA GeForce RTX 2070 Ti teased: 7.5GB GDDR6?!
NVIDIA purported GeForce RTX 2070 Ti will sport 7.5GB of VRAM.

Published Mon, Apr 8 2019 8:45 PM CDT
|
Updated Tue, Nov 3 2020 11:48 AM CST
AMD will be fighting the good fight in a few months with Navi, and while NVIDIA has a bunch of graphics cards between its GeForce RTX and GeForce GTX series graphics cards, it'll have to have something to battle Navi.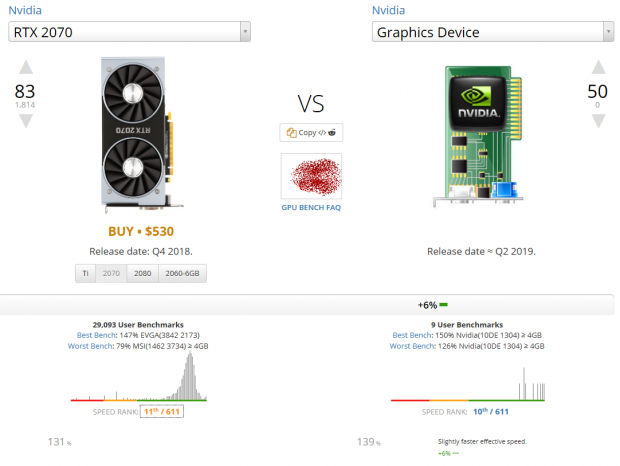 Well, that new card could be the purported GeForce RTX 2070 Ti which WCCFTech picked up just now from the userbench database and in their words "has RTX 2070 Ti written all over it". The most interesting part of this purported new card is that it has 7.5GB of VRAM, falling in between the RTX 2060 with 6GB and RTX 2070 with 8GB of VRAM.
I don't think we'll see NVIDIA release a new graphics card with 7.5GB of RAM, especially after the 3.5GB VRAM issue it faced a few years ago and the backlash that ensued.
What I do think we could be looking at is a new card that could be either a GeForce RTX 2070 Ti that will fill the gap between the RTX 2070 and RTX 2080. NVIDIA will need to combat AMD's new Navi GPU when it launches in a few months and while it has plenty of cards on the market that are fine contenders, they will be months, and nearly a year old in the case of the RTX 2080/2080 Ti by the time Navi is here.
There is a wide $200 price gap between the RTX 2070 and RTX 2080 so NVIDIA could fill this perfectly, but will it be an RTX or GTX series card?
Related Tags