Valve defuses Borderlands 2 review bombs on Steam
Valve uses new tools to counter review bombs, starting with Borderlands 2.

Published Sun, Apr 7 2019 7:32 PM CDT
|
Updated Tue, Nov 3 2020 11:48 AM CST
Valve adds a new measure to counter review bombing on Steam in an effort to quell the raging PC Game Store Wars.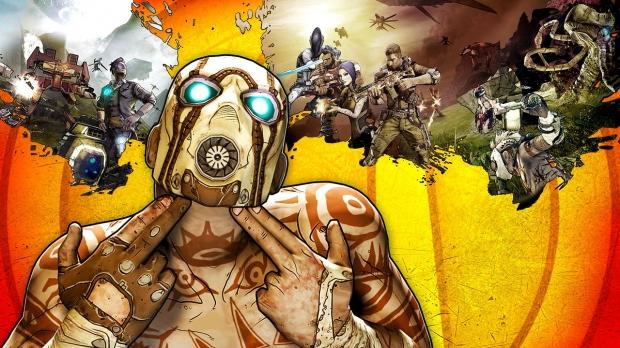 PC gamers are review bombing Borderlands 2 on Steam to protest Borderlands 3's Epic Store exclusivity deal. The process sees gamers deliberately giving bad user reviews to lower Borderlands 2's overall aggregated score on the platform in an attempt to get the publisher's attention and punish them with bad user-generated press. This has happened with Metro games, and other games that've jumped over to the Epic Store. But this process actually hurts Steam, and Valve is fighting back.
Valve defused the review bomb with a new tool that thwarts review score bombing. The method essentially scans user reviews for "off-topic activity" like one-sentence complaints about publishers or Epic Games, and negates any influence they have on the score. The reviews can still be seen but don't actually bring down the game's rating.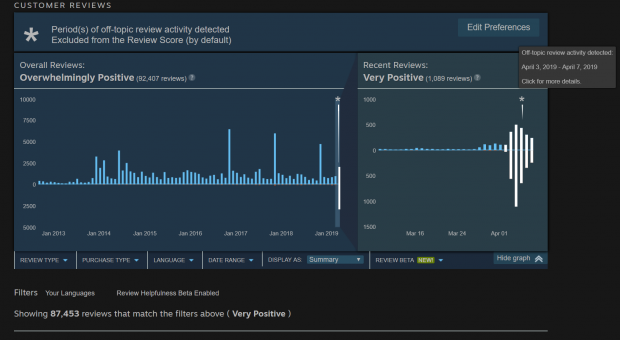 This new measure wiped out review ratings from April 3 thru April 7, and will continue to do so if the protests go on. "Period(s) of off-topic review activity detected. Excluded from the Review Score (by default)," reads Borderlands 2's Steam page.
Ultimately this kind of bad press hurts Valve too. Publishers aren't the only ones affected here.
Bad reviews usually translate to lower sales, and lower sales means less revenue for Valve. Right now Valve is getting lots of potential earnings taken away from it as big AAA games make timed exclusivity deals with Epic, which means Valve misses out on critical launch revenues. Ubisoft, Take-Two Interactive, Deep Silver, and others are going to the Epic Games Store and turning their back on Steam.
Steam is currently the reigning king of PC but that could change if more publishers and developers get drawn into Epic's ecosystem. Epic lets devs keep 85% of all revenues for games sold on its store, versus the starting 70% Valve offers, a tactic that sees lots of games jump over to sign exclusivity deals with the Epic Store.
As such, Valve is keen on putting out fires on its own turf especially if it can't control what happens outside its high castle walls.
Related Tags