NVIDIA shows off Quake II with real-time ray tracing tech
Quake II powered with real-time ray tracing and HDR shown off by NVIDIA at GTC 2019.

Published Mon, Mar 18 2019 10:00 PM CDT
|
Updated Tue, Nov 3 2020 11:49 AM CST
GTC 2019 - NVIDIA showed off something very close to my heart at GTC 2019 this year, with a real-time ray tracing powered version of Quake II demoed.
The company has created a demo of Quake II that uses NVIDIA's RTX technology as well as HDR, something else NVIDIA inserted into id Software's iconic shooter. NVIDIA explained that the original lighting in Quake II was baked and static, but when ray tracing is enabled the entire environment comes alive and looks completely different from the work id Software did in the 90s.
We have beautiful dyanmic lighting that creates realistic reflections and shadows, all of which are visible across the envrionment in the game be it walls, floors, or windows. NVIDIA explains: "We've introduced real-time, controllable time of day lighting, with accurate sunlight and indirect illumination; refraction on water and glass; emissive, reflective and transparent surfaces; normal and roughness maps for added surface detail; particle and laser effects for weapons; procedural environment maps featuring mountains, sky and clouds, which are updated when the time of day is changed; a flare gun for illuminating dark corners where enemies lurk; an improved denoiser; SLI support (hands-up if you rolled with Voodoo 2 SLI back in the day); Quake 2 XP high-detail weapons, models and textures; optional NVIDIA Flow fire, smoke and particle effects, and much more!"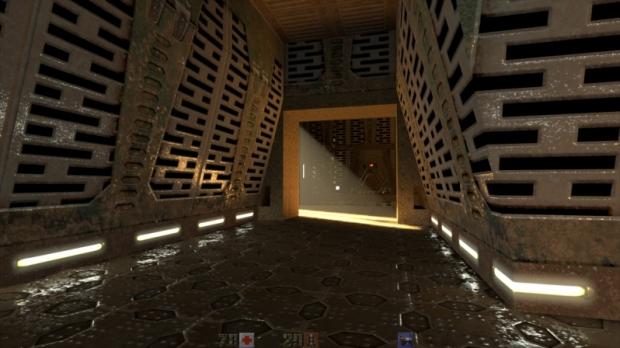 Related Tags