Friday the 13th slasher coming to Switch
Gun Media brings its ultra-violent multiplayer slasher to Switch this Spring.
Published Mar 4, 2019 11:13 AM CST
|
Updated Tue, Nov 3 2020 11:49 AM CST
1 minute & 47 seconds read time
In a bid to continue making money from their revenue-locked survival slasher, Gun Media plans to bring its brutal Friday the 13th adaptation to Nintendo's portable handheld-console hybrid.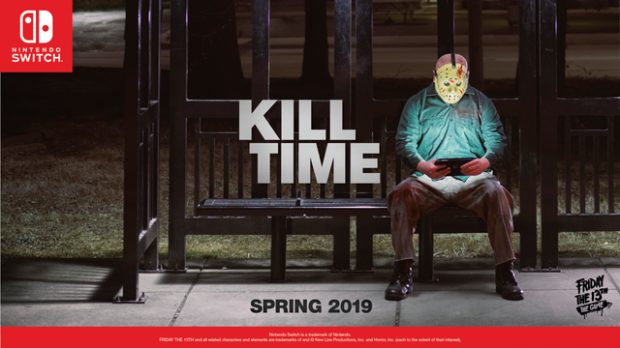 Things are a-changing at Nintendo. Some of gaming's most bloody games are coming to the Switch. The ominous and thrilling Friday the 13th multiplayer game launches on Nintendo's once-wholesome platform this Spring, followed by the gruesome Dead by Daylight in Fall. The Switch flavor of Camp Crystal Lake's boogeyman-chaser is being developed by studios Black Tower and Nighthawk, and features all current paid DLC and content available in the PC and console versions.
The Friday the 13th: The Game Ultimate Slasher Switch Edition (what a mouthful) is a direct way for Gun Media to rake in more cash from the game. Back in 2018 the studio was forced to halt development of all future content, packs, and skins, thanks to a lawsuit. Now Gun Media can no longer sell additional DLC or monetize the game. So the studio's only option to make money from the project is to re-release ports of the game on different platforms.
I'm wondering if the Switch is the best place for a game like this, though. Dead by Daylight looked pretty bad during its Nintendo Direct announcement showcase, and I'm hoping Gun Media and its partners can get Friday the 13th running smoothly on the Switch's lower-end hardware.
"We're happy to be bringing 'Friday the 13th: The Game' to the Nintendo Switch with the help of our partners at Black Tower and Nighthawk. The Nintendo Switch offers a unique experience, in both social settings and on the go, that we feel work very well with Friday the 13th: The Game," Gun Media's Daniel Nixon told Variety.
Gun Media has since moved on to help publish Bloober Team's excellent-looking cinematic Layers of Fear 2.
Related Tags