Qualcomm unveils second-gen 5G modem with Snapdragon X55
Qualcomm's new Snapdragon X55 drives 5G connectivity up to 7Gbps down, 3Gbps up.

Published Tue, Feb 19 2019 7:33 PM CST
|
Updated Tue, Nov 3 2020 11:49 AM CST
Qualcomm has just unveiled its second-gen 5G modem with teh announcement of the Snapdragon X55, a beast of a chip that handles both 5G and 4G connectivity with support for both mmWave and sub-6GHz spectrums, like its X50 predecessor.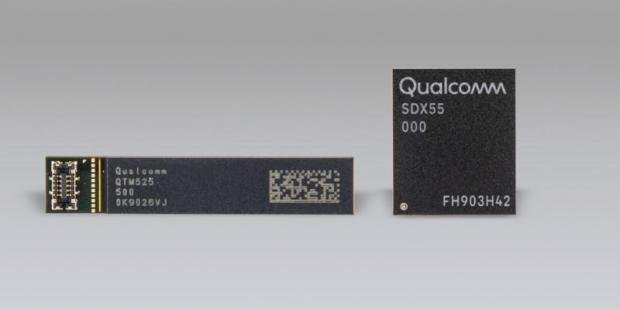 The new Snapdragon X55 ramps up theoretical peak speeds to 7Gbps (up from 5Gbps) download and up to 3Gbps upload. You won't hit those speeds walking around down, as you'll need to use the right phone, be in the right spot, and have perfect network conditions to be pulling down 7Gbps and uploading at a huge 3Gbps. Qualcomm has introduced 5G FDD support in the new Snapdragon X55, which is an important building block for Europe and other countries where it will free up low-frequency spectrum (600MHz to 900MHz) for that all-important 5G.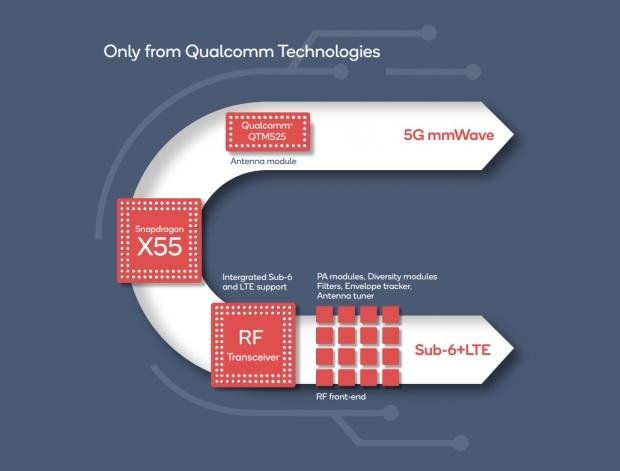 Qualcomm hosted its annual Snapdragon Tech Summit in Maui, Hawaii last year where it talked about using the Snapdragon X50 inside of the 5G-powered smartphones of 2019, but the new Snapdragon X55 will be what powers the 5G phones of tomorrow... as in 2020, and beyond. Qualcomm says it won't have Snapdragon X55 available until "late 2019", the company just announced it ahead of time to blow our minds open even more.
Snapdragon X55 is a different design to previous 4G/5G modems where current 4G LTE phones feature a single-chip design, with an SoC and a modem all integrated into a single piece of silicon. Qualcomm is changing this as 5G requires an SoC, as well as the 5G modem, as well as multiple RF antenna modules built into the sides of a phone. This means smartphone makers will need to adjust designs in order to pack in a Snapdragon X55 modem.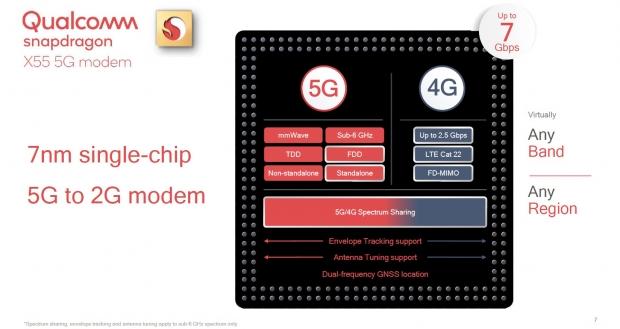 Qualcomm used the 10nm node for the first-gen Snapdragon X50, but will be tapping the newer 7nm node for Snapdragon X55 which will help mitigate those issues of precious space inside of a phone. We should see less power consumption, less heat, while seeing increased throughput (up and down) which is impressive nonetheless.
What we should expect is a next-gen Snapdragon SoC that will pack the new X55 modem inside, and I'm sure we'll see that unveiled towards the end of the year during their Snapdragon Tech Summit which is held in December. But it's not just the world of smartphones that will benefit from the super-fast 5G speeds that are only found inside of the Snapdragon X55, but the Always On, Always Connected PCs that Qualcomm is pushing with Microsoft.
Imagine a new Snapdragon-powered Windows PC that has 20+ hours of battery life and up to 7Gbps down/3Gbps up connectivity, all in a single laptop. That is the future, and right now it's only possible with Qualcomm. Snapdragon X55 is looking into the future, with 2020 and beyond to surely be dominated with 5G as phones are announced during MWC, throughout 2019, and into the New Year.
I also reached out to Patrick Moorhead, Founder, President and Principal Analyst at Moor Insights & Strategy who had the following to say about Qualcomm's new Snapdragon X55: "The new X55 modem has every bell and whistle you'd want for smartphones, tablets, cars and even PCs. This modem will be the first high volume 5G fmodem or smartphones as it supports every carrier on the planet. Given it's multimode, too, so vendors won't need a second modem supporting legacy "Gs".
Related Tags