Next Xbox X - 8C/16T Zen 2 CPU, Navi GPU, 16GB RAM for $499
Microsoft's next-gen Xbox: custom Zen 2 CPU and Navi GPU from AMD, 16GB GDDR6, ray tracing technology, and more.

Published Jan 25, 2019 12:01 AM CST
|
Updated Tue, Nov 3 2020 11:49 AM CST
We know that the next-gen Xbox and PlayStation consoles are both in development and both use AMD technololgy in the form of a Zen 2 processor and Navi GPU, but now a new leak on Reddit is teasing some monster specs for what the purported next-gen Microsoft consoles: Xbox Streaming and Xbox X.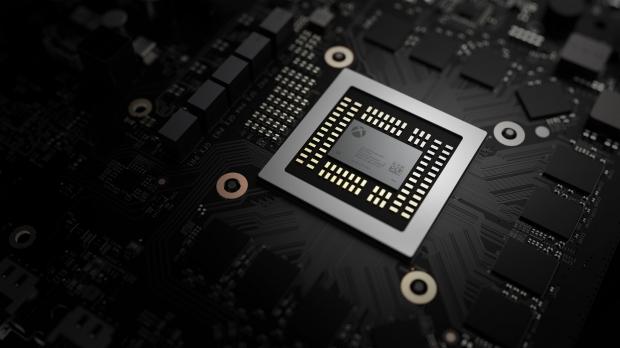 The rumors are coming from a Reddit post which teases the codename Lockhart as the Next Xbox Streaming console that will reportedly launch for $249, and it'll pack a custom 8C/16T Zen 2 processor from AMD. Microsoft is reportedly using a custom Navi GPU with 4 TFLOPs of performance, 12GB of GDDR6 (which will most likely be shared memory across the system and graphics side of things), and a huge and super-fast 1TB NVMe SSD with 1GB/sec of speed.
Next Xbox X (codename Anaconda) - $499:
CPU: AMD's custom Zen 2 CPU with 8C/16T (should be on 7nm)
GPU: Custom Navi GPU (12 TFLOPs of performance, also should be 7nm)
Memory: 16GB GDDR6 (surprising, but will be probably shared with GPU)
Storage: 1TB NVMe SSD @ 1GB/s+ bandwidth
API: DirectX Raytracing + MS AI (DXR being used will be HUGE, enables ray tracing)
Next Xbox Streaming (codename: Lockhart) - $249:
CPU: AMD's custom Zen 2 CPU with 8C/16T (should be on 7nm)
GPU: Custom Navi GPU (4 TFLOPs of performance, 1/3 the Xbox X)
Memory: 12GB GDDR6 (2/3 of the Xbox X)
Storage: 1TB NVMe SSD @ 1GB/s+ bandwidth
API: DirectX Raytracing + MS AI
An interesting addition is DirectX Raytracing, or DXR - giving the next-gen Xbox consoles ray tracing abilities, as well as "MS AI" which will be an interesting take on artificial intelligence in a next-gen Xbox console. This is the $249 console and I'm expecting 1080p 60FPS out of this and maybe lower resolution, 30FPS with ray tracing on thanks to maybe some offloading of something to the AI, maybe?
But it's the purported Next Xbox X which is codenamed Anaconda which has my full, undivided attention. The rumored specs teases a custom Zen 2 processor with 8C/16T that I suspect will have higher CPU clocks than the chip used in the Xbox Streaming console. Not only is the CPU beefier but the Navi GPU specs in the purported Xbox X will hit 12 TFLOPs, a 3x increase over the $249 offering.
Next Xbox X will reportedly have a huge 16GB of next-gen GDDR6 memory which should again be shared between the system and the GPU, the same 1TB NVMe SSD and DXR and MS AI technologies. This huge power increase over the Next Xbox Streaming console bumps the price to $499, which would be phenomenal as I expect nothing less than 4K 60FPS in first-party titles at launch, and many more until it becomes a standard over the years.
The launch window for the Next Xbox consoles is reportedly holiday 2020, with the Next Xbox SDK to reportedly roll out in either "April or May 2019". The post adds that both consoles "will have heavily customization CPU and GPU, and both support Ray Tracing with DXR. I know about some pretty crazy customizations and implementations. You will start to see those things around GDC".
Both consoles will reportedly have backwards compatibility with ALL previous-gen Xbox consoles, from the original Xbox to the Xbox 360 and new Xbox One consoles. The posted teases "all generations in one console" and if Microsoft can pull it off, that'll be huge. Absolutely huge. A game changer.
Remember this is all rumor right now, and I'm feeding off of the excitement and reporting on it. I'd love to see this happen, and by all means it could happen - as I've said before (even to AMD, NVIDIA, Intel, Qualcomm and others) we need this multi-generational leap in console technology. The Xbox One and PS4 were simply not powerful enough to last into 2019 and beyond in a world of 4K content being near mainstream with cheap 4K TVs now.
The PC side of things is about to receive Big Format Gaming Displays (BFGDs) from NVIDIA and the huge unleashing of 4K 120Hz capable TVs being announced at CES 2019 only drives things further. Current consoles can't wish to do 4K 60FPS with their honestly, really shitty hardware, that is so slow it holds back the entire gaming industry. I've raged on about this for years now, and nothing has changed. THis is something I constantly complain to these companies about, the entire gaming industry is held back because of the shitty hardware inside of the current-gen consoles.
We have to see the next-gen consoles shoot for the stars so we can have a 2-3x increase in all aspects of next-gen game development. Moving away from the super-old Jaguar CPU architecture inside of all current-gen consoles (Xbox One, Xbox One S, Xbox One X, PlayStation 4 and PlayStation 4 Pro) to a next-gen custom Zen 2 processor with 8C/16T is going to be like going from the Xbox to the Xbox One X in terms of game developers' ceiling with CPU resources.
The shift to the Navi GPU is going to be even larger, as it has been custom-built for next-gen consoles in mind, and should also be on 7nm. The what should hopefully be super-fast GDDR6 memory as both system and GPU memory is going to be a huge boon for Next Xbox consoles as we should see 1080p 60FPS with next-gen graphics (with games built from the ground up for next-gen consoles, and PC titles at full Ultra graphics, AA, and 60FPS and beyond).
4K 60FPS shouldn't be a problem with the 8C/16T CPU and custom Navi GPU with GDDR6 memory for the $499 Next Xbox X console, and that is going to result in some truly gorgeous next-gen games. Mixed with DXR and ray tracing technology we could be about to see the largest leap in games, consoles and graphics engines in gaming history.
The PC will benefit so, so much from all of this as well. This is the part I'm more excited for.
Related Tags