Anthem's Ranger class has a Destiny Titan-like bubble shield
Defender Titans will be happy with Anthem's Ranger class.

Published Thu, Jan 17 2019 8:28 PM CST
|
Updated Tue, Nov 3 2020 11:49 AM CST
Each of Anthem's four mech classes--Ranger, Colossus, Interceptor and Storm--all have their own unique support abilities that can be augmented with loot. It just so happens that the Ranger class, which is the starter javelin with an emphasis on precision, has a nifty bubble shield option straight out of Destiny.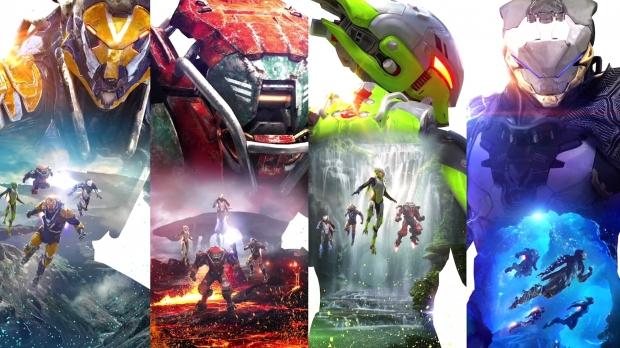 I'm a Defender Titan through and through. I absolutely love my Destiny 1 build and there's nothing that could sway me to other classes or builds. I really enjoy being this walking tank protector that not only shields my allies, but builds them up with helpful buffs. Although Anthem isn't a lot like Destiny, it's taking some nifty queues from Bungie's shared-worlds shooter, namely with specific abilities.
The Ranger javelin's support ability is a shield-based AoE and can do various things like protecting allies from projectiles during crazy heated moment and buff them with speed, damage, or armor bonuses. But every shield isn't the same. The support ability's efficacy and type depends on the gear you have equipped. So the Bulwark Point, which creates the Destiny-Titan-like bubble shield that allies can shoot through, is tied to gear and won't be available unless you have that specific item equipped.
Other "point" shields include the Muster Point, which boosts gun damage by 20% for everyone inside the radius.
Gear also determines specific combo setups, too, creating a vast webwork of possibilities, builds, and more importantly, loot combinations that will keep gamers playing Anthem over long periods of time. Remember Anthem is a service game and everything in it is specifically designed to keep you active for as long as possible, which, EA hopes, will spark spending on cosmetic microtransactions.
We already know that weapons and secondary items like grenades and knives can prime combos, and that every single Javelin has its own combo detonation effects.
Check out this awesome javelin chart for more info on how each class works.
Anthem is due out on February 22, 2019 on PS4, Xbox One and PC.
Related Tags