Anthem's combos can be primed with gear
Anthem's weapons and gear can be used to set up and detonate elemental combos.

Published Mon, Dec 24 2018 2:22 AM CST
|
Updated Tue, Nov 3 2020 11:49 AM CST
Anthem's weapons can be outfitted with components that set up and detonate elemental combos.
Combos are an essential part to any BioWare game, whether it be the strategic power combos in Mass Effect or the devastating skill combos in Dragon Age. Anthem might be an online-only shooter that breaks BioWare's tradition of squad-based RPGs, but it'll feature combos in a more dynamic and varied way than other games. Like Mass Effect, gamers can prime and detonate combos with weapons and abilities, albeit in a wider capacity.
In a recent Anthem stream BioWare devs Jon Warner, Mike Gamble, and Ben Irving showed off some gameplay and discussed these combos. Equip-able weapons can apparently be infused with elemental effects to trigger combos. This means players can trade-out weapons and gear to dramatically transform their roles and effectiveness in battle, adding that familiar level of BioWare strategy to the action game.
"I'm loaded out to be a primer. I've got ice attacks on both of my gear slots, so I will be trying to set you guys up for status effects and some awesome combos," Warner said in the stream.
"So I'm playing a Colossus. My job is to do some protection today, so I'm playing a little close quarters. I've got a shock coil you'll see that lets me get up close and personal and electrocute people," Irving said.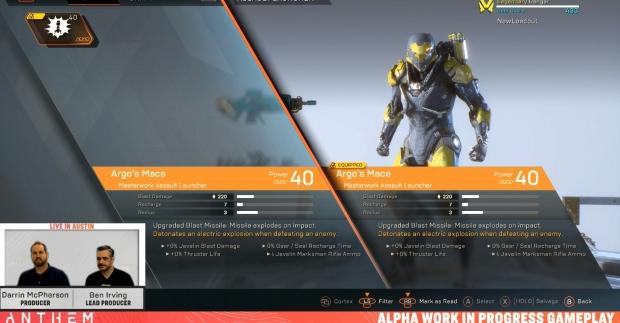 Read Also: Anthem looks like tons of fun
This could mean players can transcend the specific roles of their Javelin mechs with the right loadout, offering unique opportunities for incredible cohesion synergy with other party members. Gamers should be able to swap out specific weapons and components to tailor their effectiveness against certain enemy weaknesses.
With so many customization options I expect that Anthem will serve up some truly fearsome endgame bosses in its Elder Content rollouts, which include dungeons called strongholds.
Anthem is slated to release February 22, 2019 on PS4, Xbox One and PC.
Related Tags