Metro Exodus finalized, release date moved up
Nuclear winter is coming.

Published Thu, Dec 13 2018 1:24 PM CST
|
Updated Tue, Nov 3 2020 11:50 AM CST
4A Games has laid the finishing touches on their latest post-apocalyptic opus and have moved the game's release date up a week.
Metro Exodus has gone gold, meaning development is finalized and its ready to ship. Originally slated for a 2018 launch, the huge survival shooter was delayed to 2019 to ensure polish and a rich feature slate, and now Deep Silver has moved the release date forward a week to February 15, 2018. This is an odd decision considering both Far Cry: New Dawn and Crackdown 3 will come out the same day.
Exodus will push the series forward to new heights, says 4A Games. It'll feature a huge continent-spanning open world to explore with a day-to-night cycle, dynamic weather, and changing seasons. Although it's not an online service game, the gameworld will feature standard engagement hooks with its new crafting and scavenging system and very Red Dead Redemption 2-like gear maintenance.
Sourced directly from Dmitry Glukhovsky's Metro 2035 novel, the game continues right where Metro: Last Light left off and continues Artyom's bloody journey across a ruined world.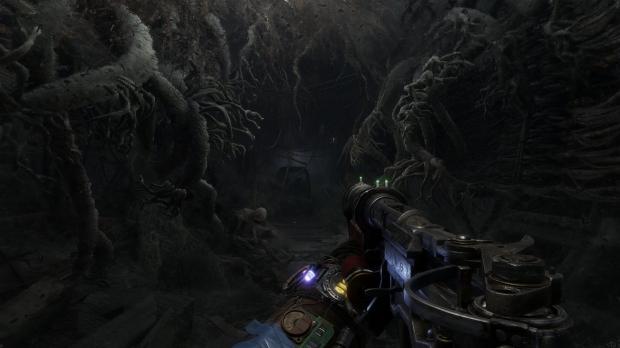 Metro Exodus will release on February 15, 2019 on PlayStation 4, Xbox One and PC.
Check below for more info:
MORE ABOUT METRO EXODUS

The year is 2036.

A quarter-century after nuclear war devastated the earth, a few thousand survivors still cling to existence beneath the ruins of Moscow, in the tunnels of the Metro.

They have struggled against the poisoned elements, fought mutated beasts and paranormal horrors, and suffered the flames of civil war.

But now, as Artyom, you must flee the Metro and lead a band of Spartan Rangers on an incredible, continent-spanning journey across post-apocalyptic Russia in search of a new life in the East.

Metro Exodus is an epic, story-driven first person shooter from 4A Games that blends deadly combat and stealth with exploration and survival horror in one of the most immersive game worlds ever created.

Explore the Russian wilderness across vast, non-linear levels and follow a thrilling story-line that spans an entire year through spring, summer and autumn to the depths of nuclear winter. Inspired by the novels of Dmitry Glukhovsky, Metro Exodus continues Artyom's story in the greatest Metro adventure yet.

Embark on an incredible journey - board the Aurora, a heavily modified steam locomotive, and join a handful of survivors as they search for a new life in the East

Experience Sandbox Survival - a gripping story links together classic Metro gameplay with new huge, non-linear levels

A beautiful, hostile world - discover the post-apocalyptic Russian wilderness, brought to life with stunning day / night cycles and dynamic weather

Deadly combat and stealth - scavenge and craft in the field to customize your arsenal of hand-made weaponry, and engage human and mutant foes in thrilling tactical combat

Your choices determine your comrades' fate - not all your companions will survive the journey; your decisions have consequence in a gripping storyline that offers massive re-playability

The ultimate in atmosphere and immersion - a flickering candle in the darkness; a ragged gasp as your gasmask frosts over; the howl of a mutant on the night wind - Metro will immerse and terrify you like no other game...
Related Tags