Overkill's The Walking Dead stumbles on sales
Overkill's new Walking Dead FPS misses sales revenue targets at Starbreeze.

Published Mon, Nov 26 2018 10:10 AM CST
|
Updated Tue, Nov 3 2020 11:50 AM CST
Overkill's The Walking Dead isn't performing as well as publisher Starbreeze had hoped...but it's too early to make a judgement.
The new Walking Dead FPS from Payday developer Overkill looks promising enough, but it's apparently not hitting initial sales targets on PC. Publisher Starbreeze Studios attributes this dip in sales to overseas markets, where the game is selling well on lower-priced storefronts in China and Russia. This sales slip will affect Starbreeze's Q4 and, in conjunction with missed licensing fee, has prompted the publisher to tighten its development belt.
"Initial sales revenues from OVERKILL's The Walking Dead are lower than forecasted, primarily because the share of sales in low-price countries, such as China and Russia, is significantly higher than expected," reads an investor relations announcement.
"We will not be able to recognize the license fee from 505 Games for Overkill's The Walking Dead as revenue until after the end of the fourth quarter, while initial sales revenues from the game are lower than expected. This will have negative impact on fourth-quarter earnings, but our target of positive EBITDA for Q4 stands," says Starbreeze CFO Sebastian Ahlskog.
It's too early to tell whether or not the game will be a success. The Walking Dead launched on PC this month and is slated for a widespread console release in February 2019, and it's here where the game needs to gain most traction. The console market is bigger than PC gaming and PS4 and Xbox One owners typically spend more on monetized content.
This brings us to a fork in the road. How will Overkill monetize The Walking Dead? The game is undoubtedly a live service title that's built around engagement, but it doesn't have microtransactions. Starbreeze hints that the shooter will have extra content in a seasonal format that can be purchased, such as new maps, characters, weapons and more.
"This [sales slip] is disappointing, of course, but we have a base to work with in regards to the number of games sold. We have a pulse of concurrent players, which is essential to future performance within the framework of our Games as a Service concept.
"The team is working at full capacity to deliver improvements to the game and new content, and Season 2 will be starting soon," says Starbreeze Chairman Michael Hjorth.
Overkill's Walking Dead shooter is now available on PC, and comes out on February 6, 2019. Check below for more details:
"Characters will also have their own skills, abilities and preferred weapons that reflect who they are and their personalities. We're building a class-based system so there are clear rules for players. You'll need to experiment with different characters and skills to find out how to best survive," Overkill associate producer Petra Pinho said in a 2017 update.

Four players form a tightly knit team who are dependent on each other and are forced to trust each other. Will they cover you as you scavenge for food and will they sacrifice their last bullet as a herd approaches?

OVERKILL'S The Walking Dead is all about strategy and working as a team. Washington D.C is a hostile city and the importance of a wide range of play styles and weapons is key to survival.

This is simply not a lone-wolf world anymore, as there's no room for heroes and the most honest thing you'll find out there are the walkers.

"Inspired by the rich story universe of Robert Kirkman's original graphic novels, OVERKILL's The Walking Dead is a four-player co-op multiplayer FPS action game set in Washington, D.C., as an outbreak brings the dead back to life. In this test of strategy and endurance, players will band together with up to three friends on a variety of missions and raids, securing supplies and survivors to strengthen their base camp against the threat of both the dead and the living - by any means necessary.

"Each playable character has their own skill trees, squad roles, play styles and background stories. Now they all share a common objective where survival and teamwork is paramount. The action is close-up and intense: take out enemies carefully with silent melee attack or go in guns blazing. You need to be able to improvise as nothing is certain and a horde of walkers is always right around the corner."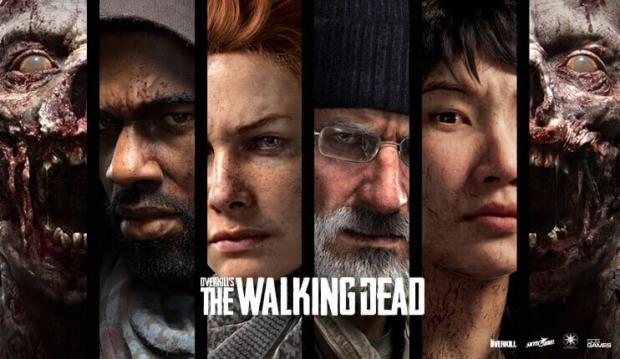 Related Tags