Final Super Smash Bros. Ultimate Direct: Nov 1st, view here
Nintendo has announced the final Super Smash Bros. Ultimate Direct, 40 minutes of new information on November 1st.

Published Wed, Oct 31 2018 1:00 AM CDT
|
Updated Tue, Nov 3 2020 11:50 AM CST
As we all expected, Nintendo has announced another Super Smash Bros. Ultimate themed Direct, the live-stream will last for about 40 minutes and jam pack us with new information.
As I mentioned last week in my article surrounding the 'completed roster' leak or the 'Grinch leak', Nintendo needed to have another Smash Ultimate Direct as there is just so much new content to go over and so little time before launch. The Direct that has been announced on Nintendo America Twitter account states that we will have about 40 minutes or so of brand new information regarding Ultimate.
The stream will be brought to us by Director Masahiro Sakurai and within this Direct we will most likely see a reveal of a few new characters heading towards a visible completion of the roster. Some of the characters that many Smash fans are expecting to
be revealed are: Shadow the Hedgehog, Banjo Kazooie, Ken, Mach Rider, Chorus Kid, Incineroar, Issac and Geno. All of which have sparked a lot of interest since the latest leak. We could also get an explanation for the new 'Spirit's Mode' and many more parts of the game we don't know about. The Super Smash Bros. Ultimate Direct will commence on the 1st/11/2018 at 7:00AM PT / 10:00 AM ET.
There is just so much content to go over in Smash Ultimate, that I'm finding it quite hard to believe that Nintendo are going to be able to wrap everything up in one tightly knit 40 minute live-stream. I suppose if there is any company to do it, Nintendo are the ones to. Trust in Sakurai, I'm sure he knows what he is doing. To view the livestream on the Nintendo website, click here.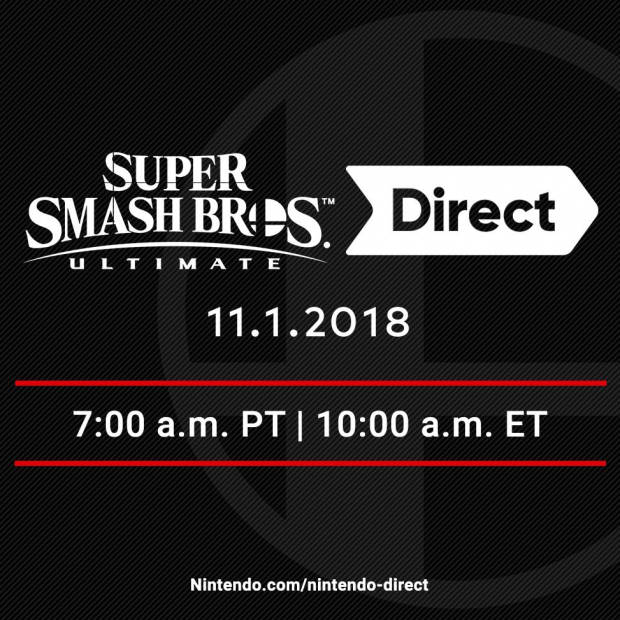 Related Tags