Nintendo Switch sales top 22 million
Nintendo sells 3.16 million Switch consoles this quarter, pushing cumulative sales past 22 million.

Published Wed, Oct 31 2018 1:08 PM CDT
|
Updated Tue, Nov 3 2020 11:50 AM CST
Nintendo's latest Switch handheld-console hybrid has now sold over 22 million units worldwide since its release in 2017, but the company has a long way to go to meet its lofty fiscal sales target.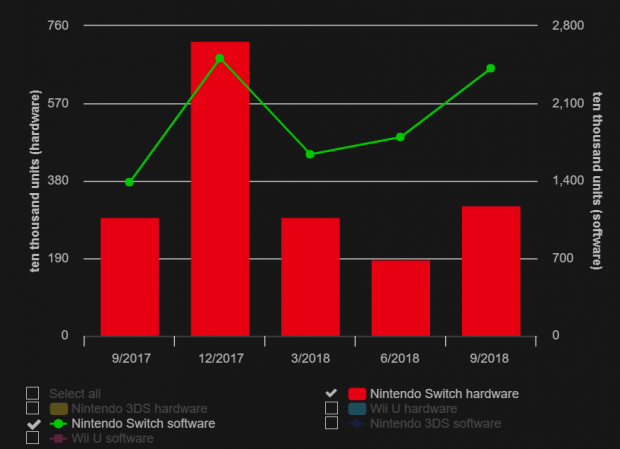 The Nintendo Switch now sits at 22.86 million cumulative sales across the globe, the games-maker today announced in recent financial earnings. Hardware sales for the quarter ending September 30 are healthy but gains are incremental. 3.19 million Switch consoles were sold during the second quarter of FY18, up a low 9.2% year-over-year and a strong 70% quarter-over-quarter. The Switch now sits at 5.1 million half-year sales, up slightly from last year's 4.9 million. Software is now up to 111.10 million.
This smaller uptick in sales momentum means Nintendo will have to push extra hard to meet its lofty 20 million Switch sales goal for FY2018. With 5.1 million Switch consoles sold so far, the company has to move 14.9 million units from now until fiscal year's end on March 31, 2019.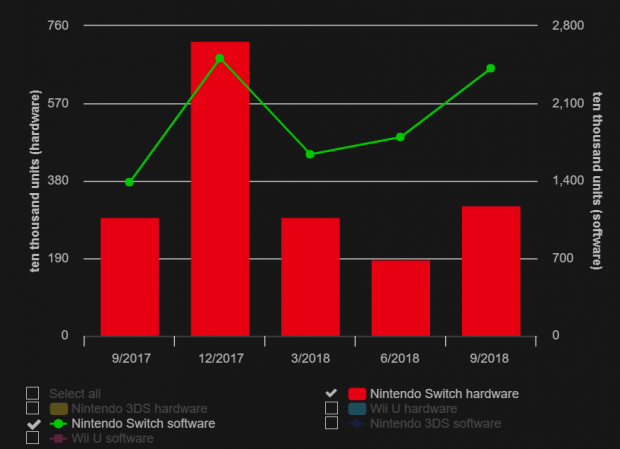 Thanks to the holidays Q3 is typically the strongest point for any platform but sales tend to cool off in Q4 after the Christmas rush. Nintendo sold 7.24 million Switch consoles in Fiscal Q3'17 (Oct. thru Dec.), but the following quarter only moved 2.92 million units.
Some analysts are more bullish and predict the Switch will sell 25 million units throughout the fiscal year.
It'll be interesting to see if Nintendo can hit its internal sales target, especially with big-name games like Red Dead Redemption 2 and Black Ops 4 stealing attention away from Pokemon Let's Go Pikachu/Eevee and Super Smash Bros. Ultimate.
Related Tags