Square Enix's mech shooter Left Alive launches March 2019
Left Alive launches early 2019 on PS4 and Steam, Square Enix today announced.

Published Tue, Oct 9 2018 5:42 PM CDT
|
Updated Tue, Nov 3 2020 11:50 AM CST
Square Enix's new action-based mech shooter Left Alive releases on March 5, 2019 on PS4 and Steam.
As someone who grew up with games like Armored Core 2, Left Alive looks pretty rad and appeals to my mech sensibilities. I'll be the first to admit I've not delved deep into the well that is mech shooters outside of that aforementioned PS2 classic, but Square Enix's new game blends third-person boots-on-the-ground shooting action with mech warfare and tactical Metal Gear-style stealth. In 22nd century Novo Slava, a war breaks out against man and machine and players are forced into surviving against hulking behemoths designed for killing.
The new trailers show some snazzy mechanics straight out of an Armored Core game--and rightly so as Armored Core series director Toshifumi Nabeshima had a hand in Left Alive's development--and things look smooth and stylish. There's a very neo Cold War type of vibe going here as players take control of three different characters each with their own perspectives, stories, and combat proficiencies during the campaign.
If you like mech games definitely keep Left Alive on your radar and be sure to check it out when it launches on March 5, 2019 on PS4 and Steam. No Xbox One version has been announced so far.
Pre-orders for base game are up, and the $159.99 mech edition is also available for pre-purchase. It includes the following: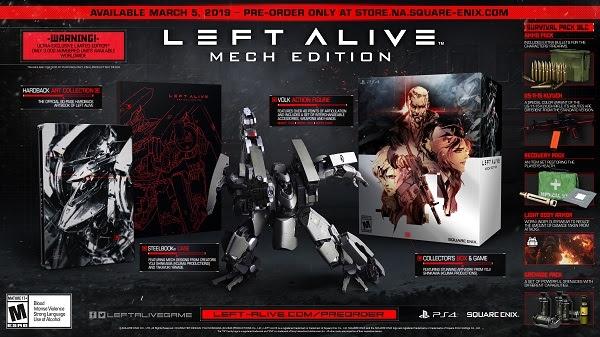 For the ultimate collector, the limited Mech Edition bundle is available for pre-order exclusively from the Square Enix Online Store for $159.99, and includes:
The Day One Edition of the game which includes the full game, and the Day One 'Survival Pack' DLC

Volk Action Figure - specially designed by Takayuki Yanase, which features interchangeable accessories, weapons and hands

Hardback Art Collection - 80-page artbook

Exclusive Steelbook Case - featuring mech designs from creators Yoji Shinkawa and Takayuki Yanase

Collector's Box
Here's more info on Left Alive:
Veteran developers, Toshifumi Nabeshima (director, Armored Core series), Yoji Shinkawa from KOJIMA PRODUCTIONS (character designer, METAL GEAR SOLID series), and Takayuki Yanase (mech designer, Ghost in the Shell: Arise, Mobile Suit Gundam 00, Xenoblade Chronicles X) join forces to create LEFT ALIVE's dark and gritty world.

LEFT ALIVE tells a human story of survival from the perspective of three different protagonists during the devastating invasion set in war-torn Novo Slava in 2127.

Experience the massive power gap between man and machine in pulse-pounding encounters: face off against powerfully armed troops, armored vehicles and towering mechs.

Choose your playing style: engage in frenetic gun battles or dispatch your enemies with stealth and wit. Set traps, collect and craft consumables to survive while exploring a devastated city ravaged by the atrocities of war.

Uncover the full story behind the war through the eyes of three different characters: as you progress through the game, experience multiple story paths each requiring bold decisions with desperate consequences.
Related Tags