Check out Red Dead Redemption 2's FPS mode
RDR2 can turn into a first-person shooter complete with a progressive new Dead Eye mode.

Published Mon, Oct 1 2018 7:31 PM CDT
|
Updated Tue, Nov 3 2020 11:50 AM CST
Rockstar's Wild West prequel-sequel lets you sling your irons in first person, and the latest RDR2 trailer shows what this will be like.
Like GTA V, Red Dead Redemption 2 will feature a first-person view mode to add new depth to the experience. Essentially we'll all be desperado outlaws gunning down lawmen, bandits, and even civilians with wanton freedom as the game transforms into a FPS. The trailer sequences show some enthralling and visceral shooting action where enemies jump out behind corners. Quick reflexes are key, especially since recoil is a big hindrance--especially while riding on a trusty steed. And yes, we can even stay in first-person while riding on horseback and blast baddies from our saddles.
Read more: Red Dead Redemption 2 seamlessly blends cinematics and gameplay
Quick-draw reflexes aren't everything though. Red Dead Redemption 2 has a newly expanded Dead Eye system that progressively gets better and better over time, likely based on Arthur's in-game experience. "The Dead Eye system has been expanded and will progress in stages, allowing you to slow time, paint targets, and see critical or fatal points of your enemies. How and when you use it is up to you," the trailer says.
One little tidbit I noticed is that you can pick up the guns from enemy bodies on-the-fly. So let's say you're in a shootout and take out a baddy, but the gun you're using wears out (guns actually have different qualities and need to be repaired the more you use them). You can just grab a gun from that slain foe and get back into the action. Provided you have ammo, of course.
Everything I've seen so far makes me believe Red Dead Redemption 2 will be the most immersive game of the year. All of these little touches will combine with a huge, living, breathing world full of believable NPCs and amazing vistas to make something special.
Red Dead Redemption 2 launches on October 26, 2018 on PS4 and Xbox One.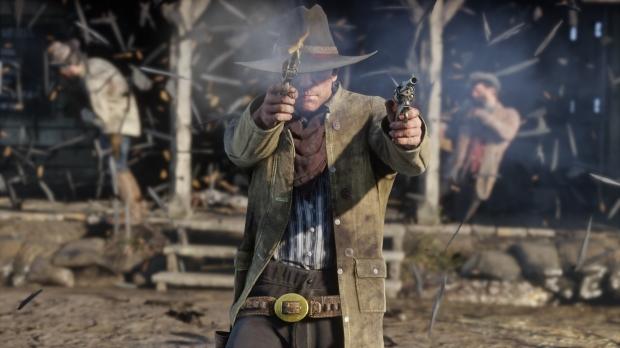 Related Tags