Red Dead Redemption 2 seamlessly blends cinematics, gameplay
New gameplay trailer shows how RDR2 seamlessly goes back and forth between cinematic sequences and actual gameplay.

Published Mon, Oct 1 2018 6:27 PM CDT
|
Updated Tue, Nov 3 2020 11:50 AM CST
Rockstar's latest trailer for Red Dead Redemption 2 shows how much effort was put into the Western prequel, and how it will organically blend cinematics and gameplay together for a compelling experience.
Back in the day cutscenes used to interrupt the flow of a game. Sometimes this was welcomed, other times it was frustrating and you just wanted to get back into the groove. But today games like Red Dead Redemption 2 seamlessly merge the two together; not only do you feel like you're playing a cinematic experience due to the visuals and immersive content during gameplay, but the sequences themselves naturally fold into story mission progression, heists, and other activities in real-time similar to GTA V.
The new Red Dead Redemption 2 trailer not only exemplifies this blending but also highlights some of the more scoundrel-y things Arthur and his band of ne'er-do-wells can do in the 1889 frontier. Naturally a iron-toting gang wouldn't be worth its salt if robberies weren't on the docket, and make no mistake, you'll do plenty of robbing (and probably killing) in your carnage-fueled adventure. I'm guessing there's certain things we can't control about Arthur--like his outlaw nature--even if we choose leniency and a path that swings more towards good than all-out mayhem.
Read more: Red Dead Redemption 2 chronicles the fall of outlaws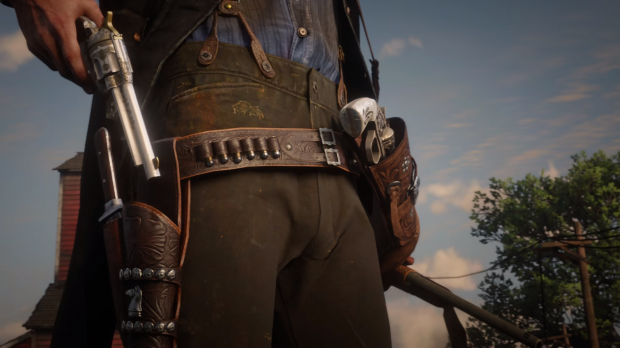 But if you do choose the path of evil instead of redemption then people will hunt you down for your nefarious deeds. Relatives of murdered NPCs will come after you (similar to Vampyr) and the pressure will be put on all sides.
"Arthur can partake in a wide variety of activities with his fellow gang members. Some are large-scale heists, while others are more personal. You can rob a train, passerby, or a coach. Hold up a store, burgle a house, or go loan sharking," the trailer says.
Red Dead Redemption 2 launches on October 26, 2018 on PS4 and Xbox One.
Other interesting tidbits from the trailer:
Improved Dead Eye system looks as deadly as ever, lets you mark targets

Lawmen will investigate crime scenes you leave behind

Bounties will be issued if your wanted level skyrockets, lawmen and bounty hunters will actively pursue as you do more crimes

You can go canoeing, bet money on card games, play dominoes, and even play Five Finger Fillet (the old infamous knife game), watch stage plays, take on bounties, etc
Related Tags