Intel's new Core i9-9900K: 8C/16T with all-core 4.7GHz boost
9900K with all cores boosted to 4.7GHz will be beastly, making Intel really shine even against AMD's latest Ryzen CPUs.

Published Sun, Aug 12 2018 3:36 AM CDT
|
Updated Tue, Nov 3 2020 11:51 AM CST
We already know so much about Intel's upcoming Core i9-9900K except for the correct CPU clock speeds, and according to the latest rumors we could be in for a treat.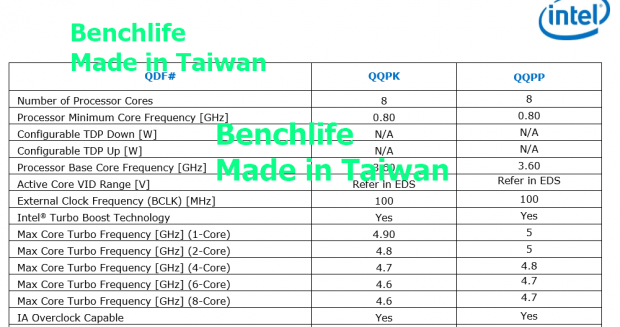 The Core i9-9900K will mark Intel's first step into the consumer 8C/16T processor world, something AMD has absolutely dominated for over a year now with the first-gen Ryzen 7 1800X followed by the new Ryzen 7 2700X. The new 9th-gen CPU will be an 8C/16T chip on the 14nm node by Intel (since their 10nm is delayed into 2020) with a newly-teased single-core CPU clock of 5GHz.
Intel's upcoming Core i9-9900K will have an all-core boost of 4.6GHz meaning we'll see a full 16-threaded CPU with all 16 of its threads at 4.6GHz, a huge leap over the 4GHz ceiling on the Ryzen 7 2700X. Even the 4-core boost is 4.8GHz while the 6-core boost sits at 4.7GHz alongside the 8-cores at 4.7GHz. This would be an incredible feat, with Intel making sure the 9900K is the best 8C/16T processor on the market.
Related Tags