Ex-Intel CPU architect joins GPU division under Raja Koduri
Larrabee architect Tom Forsyth re-joins Intel, joins forces with ex-AMD and now Intel GPU boss Raja Koduri.

Published Wed, Jun 20 2018 9:46 PM CDT
|
Updated Tue, Nov 3 2020 11:51 AM CST
Intel is acquiring the freaking Justice League of industry heroes for its new GPU division, lead by GPU architect and legend Raja Koduri.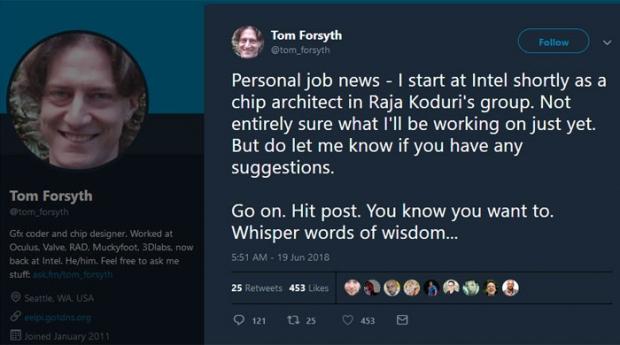 Ex-RTG Marketing boss in Chris Hook, Athlon and Ryzen architect Jim Keller (who is also ex-Tesla) and now ex-Intel and Larrabee CPU architecture architect Tom Forsyth has announced he's re-joining Team Blue to work with Raja on Intel's new GPU architecture.
Intel's refreshed GPU division has some serious talent and brainpower behind it now, with Forsyth's recent announcement taking place on Twitter where he said: "I start at Intel shortly as a chip architect in Raja Koduri's group. Not entirely sure what I'll be working on just yet". Gives me shivers, the excitement for Intel's mysterious GPU division is growing, and I love it.
Forsyth worked on the Larrabee CPU architecture, something that kicked off the AVX-512 instruction set, and the Xeon Phi that was designed around the GPU-style highly parallel processing for general purpose computing. He's someone that has had major influence on the industry while working at not just Intel, but Oculus, Valve, and even 3DLabs.
Related Tags