On the heels of its accidental leak, Hitman 2 has been confirmed for a release in 2018 by Warner Bros. Interactive.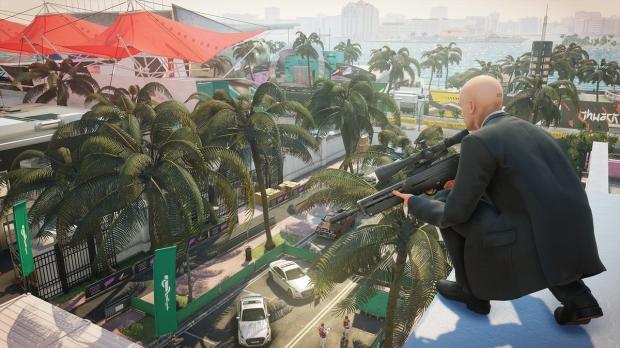 Agent 47's lethal escapades will continue in Hitman 2, which serves as a direct sequel to IO Interactive's 2016 reboot. Unlike the previous game the sequel won't be carved up in episodic chapters--instead it'll ship as a complete experience with even more dynamic gameplay. Hitman 2 will also feature a co-op mode called Sniper Assassin that allows two friends to team up and take out specific targets online, which should boost engagement.
Hitman 2 will take players all across the world to new locales like Miami and other exotic cities: "from sun-drenched streets to dark and dangerous rainforests, each intricate location provides multiple paths to discover and unparalleled game depth," reads the press release. Warner Bros. affirms the game's sandboxes will be much larger than the predecessor to offer unique ways to tackle targets.
"Featuring entirely new hyper-detailed sandboxes full of living, breathing environments to explore, Hitman 2 offers players the freedom to plan the ultimate assassination utilizing an assortment of tools, weapons, disguises and a variety of stealth techniques to creatively trigger their own unique chain of events."
HITMAN 2 not only includes a brand new campaign, but also new missions, the high-stakes Elusive Targets and more free live content that gives you new ways to test your killer creativity.

Only in HITMAN can you use everything in your environment to help plan and execute the perfect assassination. Use stealth, sabotage and everything in between to turn your creativity into a deadly weapon.

HITMAN 2 brings you 6 brand new sandbox locations to plan out the perfect assassination. Hugely complex environments provide you with endless opportunities to take out your targets in creative ways.
We've known a new Hitman game was coming for a while now, and it's great to see the series live on following IO Interactive's split with Square Enix.
"We are very proud to announce HITMAN 2 as the next exciting chapter in our ever expanding world of assassination. Building on the success of our previous game, HITMAN 2 introduces exciting new features, new modes and franchise firsts to make for a larger and richer game," said Hakan Abrak, CEO, IO Interactive.
"We couldn't have wished for a better partner than Warner Bros. to bring this game to our passionate community and introduce new players to our universe. Welcome back 47!"
Hitman 2 will launch on November 13, 2018 on PS4, Xbox One and PC.