Bitcoin surges $1,000 in less than an hour
Green across the board is reminiscent of December!
Published Tue, Apr 17 2018 12:37 AM CDT
|
Updated Tue, Nov 3 2020 11:52 AM CST
Crypto communities erupted in the past 24 hours with bitcoin having its biggest single-day surge since December! In only an hour bitcoins price surged by over a thousand dollars from just under $7,000USD to just over $8,000USD. The price how now sitting around $7,765, up 12.07% since yesterday. Some reports suggested that bitcoin had processed the most amount of trades within a one-hour period on April 12 than any other day in its 10-year history.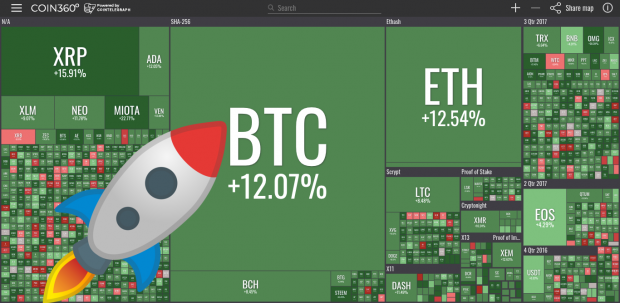 The market is beautiful and green across the board, getting everyone excited! EOS still holding 5th place in the top ten in preparation for the airdrop. There has certainly been enough positive news in the community for people to relax and buy up some more while we are currently hovering around the $7,000-$8,000 mark. Keep in mind, on this day last year, bitcoin was trading at $1,201 and had a market cap of only $19,541,300,000.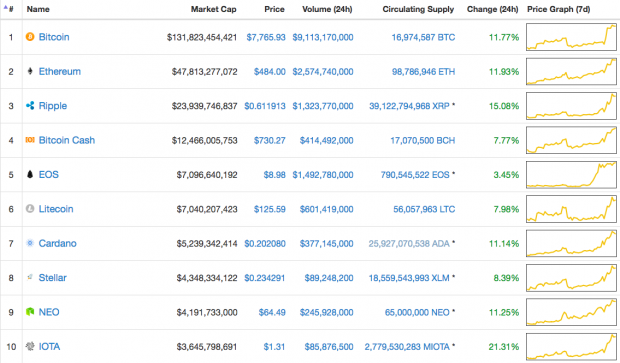 This week the news has seen Goldman Sachs executive leave to become COO of Galaxy Digital, the Rockefeller family's VC fund, Venrock, announcing a partnership with CoinFund, Apple co-founder Steve Wozniak saying bitcoin is more legitimate than other systems and now a beautiful surge that has put it back in mainstream media focus, we just might be able to hold this point and even surpass it!
Related Tags