The Witcher 3 is by far the most popular game in the White Wolf's fantasy trilogy, generating tons of revenue for CD Projekt RED over its three years of release.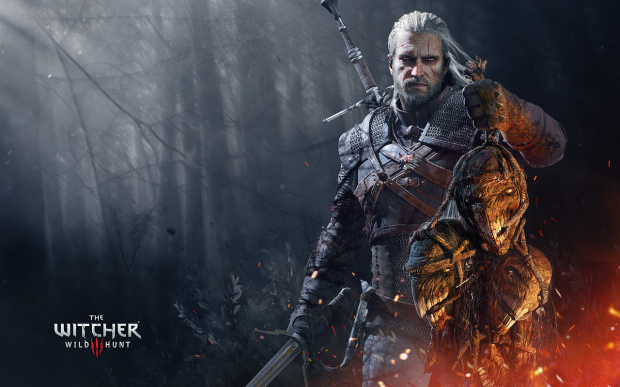 During its 10th anniversary year the Witcher series sold a mighty 33 million cumulative copies across three games, but one of those games was a leading driver in sales revenues. The Witcher 3: Wild Hunt not only represented a massive investment for developer CD Projekt RED in terms of technology and manpower, but is a critical milestone in the studio's current reputation as the masters of their craft. In terms of sales revenue, though, The Witcher 3 earned a whopping 15 times as much as The Witcher 2: Assassins of Kings in three-year cash generation.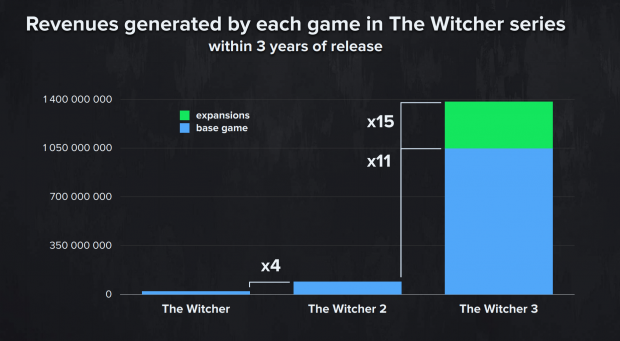 CD Projekt RED's fiscal year 2017 results show just how important The Witcher 3 has been/is to the games-maker, and the title's game of the year re-release along with PS4 Pro and Xbox One X enhancements have ensured longer-term interest. "With regard to sales, The Witcher 3 again provided the largest contribution to sales revenues," said CD Projekt RED's Chief Financial Officer Piotr Nielubowicz during the FY2017 report.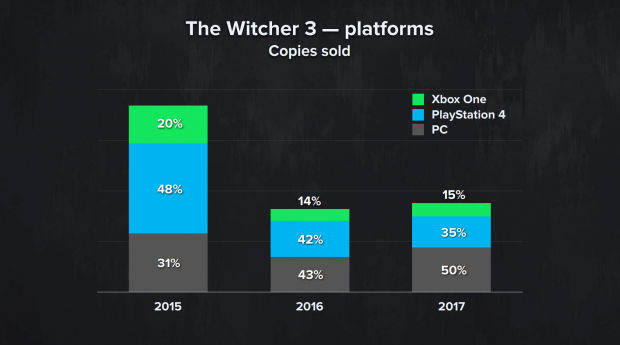 But The Witcher 3's success has trickled down into the other games, too. Players are eager for more Witcher and seeing as Wild Hunt is the conclusion to Geralt's story, there's nowhere to turn but backwards.
"In quantitative terms, 2017 sales actually topped last year's results. Both previous installments in The Witcher trilogy also continue to sell well," CDPR's CFO said in the report. "I can proudly announce that by the end of 2017 over 33 million copies of The Witcher, The Witcher 2: Assassins of Kings and The Witcher 3: Wild Hunt had been purchased by gamers worldwide."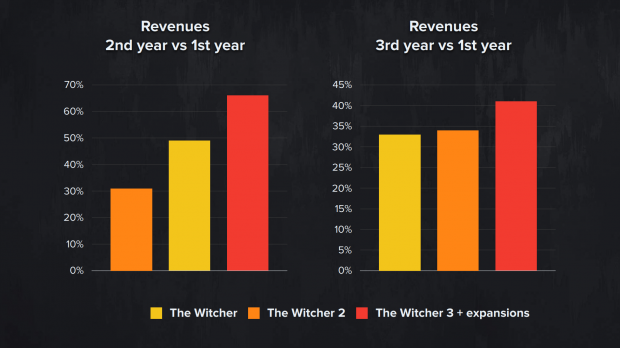 As of now CD Projekt RED is currently working on its biggest project yet, Cyberpunk 2077, which represents a massive undertaking in every possible way and should be better than The Witcher 3 in "every way".
The GWENT card game is also an important piece to CDPR's roster and will help buffer revenue in between game releases. CDPR is currently solidifying its understanding of the GaaS market and how free-to-play games work.
"Gwent has contributed to the record sales results reported by GOG.com: nearly 170 million PLN in sales revenue and 16 million PLN in net profit for 2017," CD Projekt RED's chief financial office said.
By undertaking development of GWENT: The Witcher Card Game, the CD PROJEKT Capital Group has effectively entered a new market segment: free-to-play (F2P) games with optional

microtransactions. GWENT is a multiplayer online card game which will ultimately include single-player content (add-on campaigns offering multiple hours of gameplay). The business

model and lifecycle of F2P games differs from CD PROJEKT RED's to-date experience with RPGs.

The Company is currently acquiring experience with development and marketing of "games as a service" including optional microtransactions," reads the FY2017 report.