Battlefront II gets cosmetic only microtransactions
Battlefront II's microtransactions are back, but they've been significantly changed.

Published Mon, Mar 19 2018 11:34 AM CDT
|
Updated Tue, Nov 3 2020 11:52 AM CST
Gamers have officially won the Battlefront II lootbox battle as EA makes massive changes to the game's progression and monetization strategy.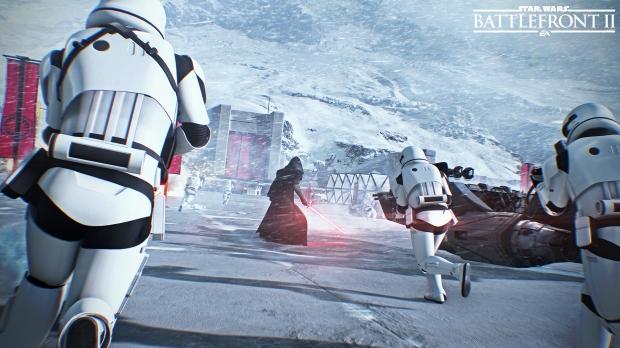 After months of tweaking, Electronic Arts has announced Battlefront II's new and improved live service purchases and player progression system. The "chance for pay-to-win" element of randomized lootbox gear has been abolished and replaced with a cosmetic-only marketplace that clearly shows what gamers will get if they purchase content.
This marketplace will run on the premium in-game currency Crystals which are purchased with real money. Star Cards can't be purchased, and anything affecting gameplay isn't buyable with real money. Crates are still in, but are only doled out for actually playing the game and cannot be bought.
This move is particularly interesting because Battlefront II was originally supposed to have cosmetic-only microtransactions. If EA and DICE had made a tactical decision to preserve that idea then a lot of this could've been avoided--along with the potential millions forgone when in-game purchases were turned off.
"With this update, progression is now linear. Star Cards, or any other item impacting gameplay, will only be earned through gameplay and will not be available for purchase. Instead, you'll earn experience points for the classes, hero characters, and ships that you choose to play in multiplayer. If you earn enough experience points to gain a level for that unit, you'll receive one Skill Point that can be used to unlock or upgrade the eligible Star Card you'd like to equip," reads the update.

"Crates no longer include Star Cards and cannot be purchased. Crates are earned by logging in daily, completing Milestones, and through timed challenges. Inside of these crates, you'll find Credits or cosmetic items, such as emotes or victory poses, but nothing that impacts gameplay."

"Starting in April, you'll be able to get appearances directly through in-game Credits or Crystals. The first new appearances are coming soon, meaning you'll be able to grab new looks for your heroes and troopers directly by using either Credits (earned in-game) or Crystals (available to purchase in-game and through first-party stores). If you've ever dreamed of being a part of the Resistance as a Rodian, your chance is right around the corner."
The Battlefront II controversy kicked off a big debate over lootboxes that actually caught the attention of state legislators, and fueled a big row over EA's business practices (and the state of gaming as a whole).
Big publishers love live services because they can inject new content over time while reaping tons of engagement-driven revenue while effectively making a game last anywhere from 3-5 years...but the monetization strategy which drives these games has to be handled just right. Or else publishers will be faced with another big industry-wide pushback.
EA caving to pressure is a welcome gesture for gamers and the industry as a whole, but I fear it's going to take a looot more pushback to get everyone on board--especially Activision, Take-Two Interactive, Ubisoft, and of course Blizzard.
Related Tags