Micron announces its latest line of enterprise SSDs that leverage 64-layer 3D NAND technology to boost storage capacities, power efficiency, and more.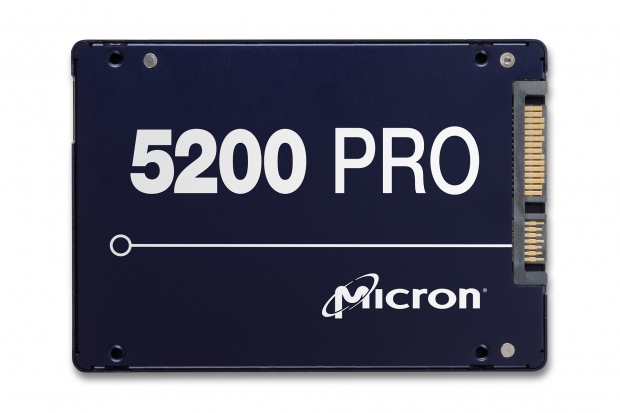 Micron's new 5200 series SSDs include the 5200 ECO and 5200 PRO drives, all of which use high-end 3D NAND storage that offers huge capacities up to 7.68TB and can deliver 95k IOPs random reads and 33k random writes. In fact the new 5200 lineup is the first enterprise grade SSD available for purchase with NAND tech, and is optimized for latency-sensitive, read-intensive workloads that demand higher performance.
"Micron 5200 SSDs unleash market-leading performance, capacity and reliability, paired with a rich feature set and unprecedented flexibility, adding up to the ideal storage solution for business-critical workloads," said Micron Storage Business Unit Vice President and General Manager Derek Dicker. "We simplified the server qualification process by leveraging the same foundational architecture that's currently available on Micron SATA SSDs. Customers can trust the same proven controller and firmware design while taking advantage of advanced flash media for better performance, quality of service, and value."
"Today's business-critical, virtualized workloads simply cannot run at peak, consistent performance on yesterday's technology," said Dedicated Computing Senior Vice President Sales and Marketing Dave Guzzi. "Customers need advanced storage technology to achieve better performance and reliability - and a lower total cost of ownership. Fortunately, Micron offers all this along with the ease of a common platform that leverages the same proven controller and firmware design as previous SSD generations."
Features and specifications can be found below:
5200 ECO SATA SSD - Scale storage with fast, vast, built-to-last SSDs. Scale data center capabilities easily and efficiently. With capacities up to 7.68TB in a 2.5" form factor, the Micron 5200 ECO SSD meets and surpasses the capacity per unit of rack space and cost advantages that had been previously owned by HDDs. Specially designed for read-intensive workloads, the Micron 5200 ECO SSD provides cloud services and content sharing companies a reliable, easy-to-deploy SATA storage solution that works within existing infrastructure deployment models to deliver radically faster performance than an HDD − and a significantly better value.
5200 PRO SATA SSD - An all-purpose drive to power read-intensive workload demands. Micron 5200 PRO SSDs are an all-purpose drive to power read-intensive workloads that require higher random write performance and endurance. The Micron 5200 PRO is quick to respond and deliver on the unforecasted demand of today's application workloads, including burst-driven transaction waves or sudden high volume web traffic. For IT administrators needing to ensure fast data throughput to keep their business running smoothly at all times, the Micron 5200 PRO SSD is a known storage workhorse and is engineered to deliver consistently fast, leading performance.