Rumor: Microsoft eyes engagement via avatar lootcrate system
Rumor has it Microsoft's new approach to avatars will be a big boon to its engagement monetizing strategy.

Published Wed, Jan 10 2018 6:23 PM CST
|
Updated Tue, Nov 3 2020 11:53 AM CST
Microsoft might be targeting more dynamic engagement interactions with Xbox LIVE users with a new, multi-faceted approach to its avatar system.
[img]98[/img]
In an older article I explained how Xbox LIVE, not Xbox consoles, is the center of Microsoft's gaming division. Rather than compete directly with Sony and try to sell as many Xbox consoles as they can, Microsoft took a more long-term route that you may recognize from the likes of EA, Ubisoft, Activision, Blizzard, and Take-Two Interactive: monetizing engagement and ensuring players remain "sticky" in the network. By adding in tons of social features such as communities and giving players a direct line of contact with one another in a more organic fashion, Microsoft promoted a more personalized and engaging atmosphere for gamers--thus ensuring they'll likely continue subscribing and buying games, thus Microsoft is able to monetize this engagement (advertisements too!).
Microsoft also recently announced Xbox Quests, a new way to engage players by offering tantalizing prizes for completing objectives or "quests" within the network or specific games--ie getting a certain GamerScore in an alotted time, or play X matchmade games, etc etc.
But rumor has it that Microsoft's big new avatar system will actually contain something else that's popular in the gaming world today: lootboxes.
In the Xbox 360 days you could actually spend Microsoft Points, a premium currency invented by Microsoft that was purchased with real money, to buy custom avatar props and cosmetic items/skins to essentially make your on-console representation of yourself unique. I've long thought that this method would be monetized in a new way, and lo and behold, Windows Central apparently stumbled upon information that may confirm our suspicions.
The new system, called a Career, will tie directly into the Quests and console-based achievements, and as players complete objectives, they can receive rewards such as lootboxes with randomized avatar gear. The more objectives you complete, the higher your rank, and you could even get more rewards as you rank up, thus creating a kind of self-propelling engagement loop (publishers love these!).
It remains to be seen whether or not gamers will be able to spend real money to buy avatar lootboxes, but I'm betting this is a firm yes. After all, Microsoft wants to monetize its massive Xbox LIVE engagement in a number of key ways, and this is a great way that will fold into its gameplan while not having to actually stick to any specific game.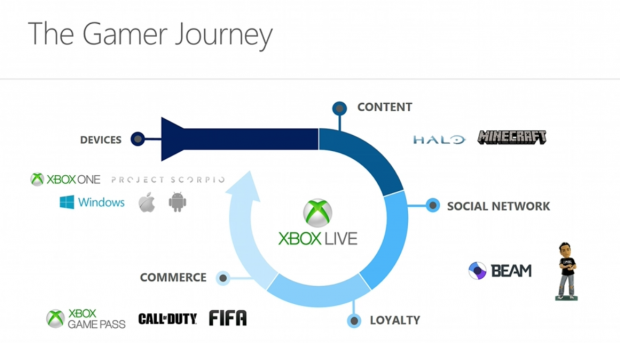 Related Tags