January's PlayStation Plus lineup is pretty great
Sony kicks off the new year with some good free games.

Published Wed, Dec 27 2017 6:12 PM CST
|
Updated Tue, Nov 3 2020 11:53 AM CST
Sony recently announced the free lineup of games for PlayStation Plus subscribers for January, which sees PS4 owners getting the most bang for their buck.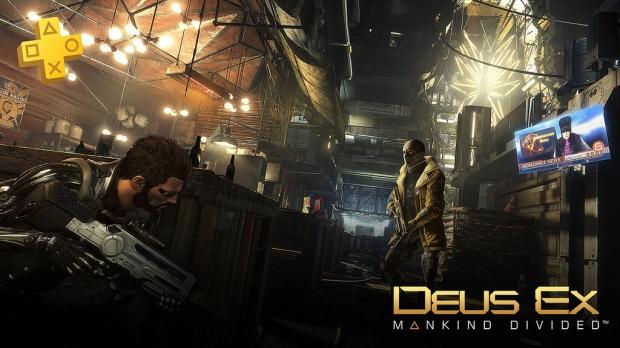 For January, PS Plus subbers will net Eidos Montreal's excellent sci-fi cyberpunk shooter Deus Ex: Mankind Divided and Telltale's rather decent Batman episodic series for the low cost of $0. Mankind Divided is definitely worth your time, so if you pay for PS Plus be sure to grab it and make some space on your no-doubt cluttered hard drive for it. Check out our review to see why I liked the game so much (spoilers: it has great action and surprisingly deep story arcs that really pull at the heartstrings).
Other free PS Plus offerings include another PlayStation VR game called Starblood Arena, a mech arena combat game that's probably pretty fun in VR. Of course we have the PS3 offering, which includes Sacred 3 and The Book of Unwritten Tales 2, whereas PS Vita gets Psycho-Pass: Mandatory Happiness and Uncanny Valley (both of which are cross-buy on PS4).
This slew of games sees Sony making good on its promise to provide more value to PlayStation Plus subscribers, and considering many gamers just bought into the PS4 and PS Plus ecosystem (the PS4 just hit 70 million global sales with a massive software attach rate), it makes sense why Sony is releasing some great freebies the month after Christmas.
Check below for a full list of free PS Plus games for January 2018:
Deus Ex: Mankind Divided, PS4

Batman: The Telltale Series, PS4

Starblood Arena, PSVR

Sacred 3, PS3

The Book of Unwritten Tales 2, PS3

Psycho-Pass: Mandatory Happiness, PS Vita (Cross Buy with PS4)

Uncanny Valley, PS Vita (Cross Buy with PS4)
Related Tags