Battlegrounds on the Xbox One/One X runs like a pile of crap
PUBG on the Xbox One is a mess, with Digital Foundry recommending Fortnite instead.

Published Dec 13, 2017 9:17 PM CST
|
Updated Tue, Nov 3 2020 11:53 AM CST
Now that Battlegrounds is released onto the Xbox One and Xbox One X consoles after months of teases, we know how much of an absolute mess it is on Microsoft's two consoles. The Xbox One X version of PUBG is definitely the superior one out of the two, with the Xbox One version of the game slipping down to just 4FPS at times.
PUBG is heavily CPU-bound which sees the Xbox One X running at 4K on Medium settings, while the slower Xbox One runs at 1080p, both versions with 100% screen scale and 90-degree field-of-view. You can find these settings by plugging a keyboard into the Xbox One X and pressing 'o'.
Driving around in a vehicle will see the Xbox One X with 26FPS average or so, while the Xbox One is much choppier with an average of 20FPS or so. In the cities, PUBG runs much smoother on the Xbox One X at 30FPS, while the Xbox One varies between 24-30FPS, but varies city to city thanks to the lack of full-map optimization at a game engine level.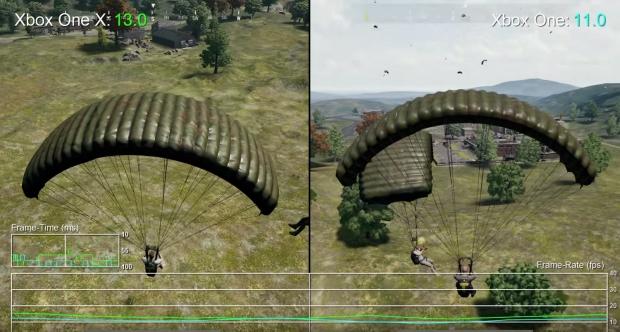 This is identical to the PC version, where some cities and places on the map will run smoothly while others see an invisible wall of performance drops.
Digital Foundry make a very good point regarding the beyond disappointing performance of Battlegrounds on the Xbox One and Xbox One X, as Microsoft had their impressive Advanced Technology Group working on the game, a team of super-brains that work on a hardware/software level getting the performance of Xbox games into a much more stable, more efficient way.
Not only did Bluehole work directly with Microsoft and their ATG, but they worked with Gears of War developer The Coalition - who used Unreal Engine in all of their Gears of War games. PUBG is powered by Unreal Engine 4, so you'd think between all of their consolidated knowledge and expertise, they would've had much more optimization in the Xbox One/X versions of Battlegrounds.
Battlegrounds will receive its much anticipated v1.0 patch on the PC later this month, with the test server already receiving some optimization love alongside its new map release. The new v1.0 patch will make the PC version of PUBG a much more optimized experience, and while it won't be perfect it'll be much better than the PC version, let alone the pile of crap that is on the Xbox One/X right now.
Related Tags