PlayStation hardware sales revenue up 29% in fiscal Q2'17
PlayStation console and handheld hardware sales are up year-over-year as network software and services soar.

Published Tue, Oct 31 2017 1:32 PM CDT
|
Updated Tue, Nov 3 2020 11:53 AM CST
Sony just reported its second quarter earnings for its Fiscal Year 2017 timeframe, showing some interesting growth trends.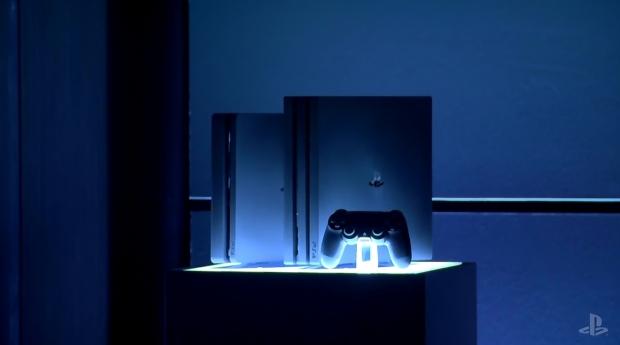 Note: The following yen to USD conversions are in accordance to Sony's earnings filing that sees 113 yen = $1 USD.
Sony's PlayStation brand is a titan of the industry: at over 60 million consoles sold and a staggering 67.5 million units shipped worldwide, the PS4 is the king of the console space. What's more is Sony's approach to monetizing the PlayStation brand with key services such as music and video streaming, live TV, and a massively lucrative games-selling platform have all been boons for revenue growth. We've already talked about how the Games and Network Services segment was Sony's most lucrative branch in Q2'17, but now we're shedding the light on specific metrics.
In the three-month period from July through September, Sony made $1.03 billion ($137.4 billion yen) from console and handheld gaming hardware sales revenue, representing a 29.2% increase year-over-year. This data shows PS4 and PS Vita hardware sales represent 33% of the total sales revenue for the segment's quarterly performance.
Relevant: Sony reports huge 739% net income spike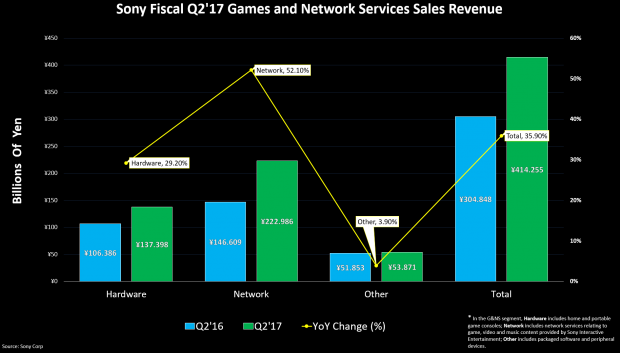 "Sales increased 35.4% year-on-year (a 25% increase on a constant currency basis) to 433.2 billion yen. This significant increase was primarily due to an increase in PlayStation 4 ("PS4") software sales including sales through the network, the impact of foreign exchange rates, as well as an increase in PS4 hardware sales," said Sony CFO Kenichiro Yoshida in the earnings report.
With millions constantly raking in from subscription services like PlayStation Plus and PS Vue, the Network subsegment of G&NS is predictably the breadwinner with 53% of segment earnings, or $1.67 billion (222.99 billion yen) in sales revenue. Network sales revenue was up 52.1% year-over-year in fiscal Q2'17.
"In the G&NS segment, Hardware includes home and portable game consoles; Network includes network services relating to game, video and music content provided by Sony Interactive Entertainment; Other includes packaged software and peripheral devices," Sony asserts on its IR site.
Sony hitting these numbers in Q2 is interesting, especially since the Q3 period overlaps with holiday and tends to be the bigger sales volume mover. On the backs of successful PS4 sales in the quarter, Sony has adjusted its total fiscal year PS4 shipments from 18 million to 19 million. This would push total PS4 shipments to 79 million by the end of March 2018.
Related Tags