Battlefront II has gone gold, ready for retail release
After years of development and hard work, EA's team of studios has finalized Battlefront II.

Published Mon, Oct 30 2017 2:15 PM CDT
|
Updated Tue, Nov 3 2020 11:53 AM CST
After years of development and assuredly months upon months of crunch, the multi-development team at EA Motive, Criterion, and DICE have finished Battlefront II.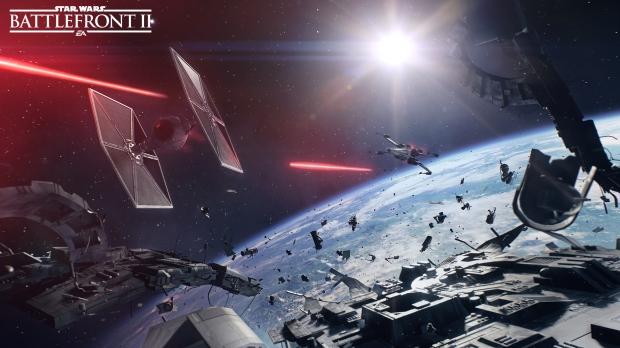 Niklas Fegraeus, design director of Battlefront II, recently confirmed that the upcoming shooter has been finalized on a gold master--the finished version of the game that will ship in stores--with only weeks to spare before the November 17 launch. Battlefront II's "pay-to-win" style monetization system drew the ire of fans across the globe, however after playing it, many agreed that it's actually a great game. Since the controversy broke out EA and DICE have promised to make a few key changes to the game itself, but don't expect things to shift dramatically; EA makes over a billion dollars a year from microtransactions and digital DLC, and Battlefront II is a perfect fit for this model. Since Battlefront II is a service game it'll continually evolve with free content updates--the gold master is just a set in stone core foundation.
After trying the beta test, I wrote up a quick piece explaining why Battlefront II is one of the most addictive shooters in recent memory. This will have a tremendous effect on its engagement strategy, and how much money gamers are willing to spend for in-game items, loot, and characters. I predict that Battlefront II will be either the biggest shooter of the year, or the second biggest following Call of Duty: WWII...however Destiny 2 has been smashing records left and right too.
In terms of money-making potential though, Battlefront II will be significantly bolstered by the release of Star Wars: The Last Jedi (after seeing the movie gamers will buy the game to continue the experience) as will the game's overall addictive scope. Weeks before official confirmation I predicted that Battlefront II would be monetized with microtransactions, and I'm curious how these paid options will take shape in the final release of the game.
Battlefront II is slated for launch on November 17, 2017 for PS4, Xbox One and PC.
Related Tags