With its distinctive style and beautiful art, Cuphead is a charming game...but it carries with it a beastly difficulty that requires skill to tame. This difficulty adds vivacity to the experience, and gives it life...and I think it's important the game is hard. Not only does it add value to the experience, it adds character to the game.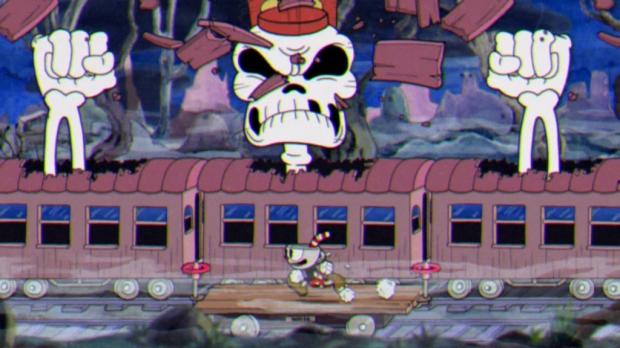 Cuphead is the type of game that instantly steals the show. It's the kind of game that people gravitate towards. I showed the game to a few non-gamers in my life and they all loved it, wanted to know more; it spoke to them, pulled them in and engaged them. The style and amazing hand-drawn art was very enamoring and completely broke the awkward ice that can frost up any encounter. But when I let them try it...well that was another story. Some laughed when they died, a few were determined to get through the first run and gun level. While most people I showed it to gave up with a smile, saying things like "Oh this is too hard," and "DAMN!", one of them beat the level, and the look on their face was priceless. That's the face of triumph, and it's something that can't really be explained in words--it's a raw voltage current of elation that anyone who frequently plays video games knows well.
But without this difficulty, the triumph wouldn't be there. Without its harsh, brutal and un-endingly cruel bosses and levels, Cuphead would be just another beautiful indie. If gamers weren't constantly beaten at their own game by nefarious bouncing blue blobs, mermaids with octopus hair, or killer sunflowers, that spiking current of victory wouldn't ignite the best emotion you can ever feel while playing a video game. That feeling is magic. It's the feeling you get when finally beating that Dark Souls boss, or getting your first Killtacular in a Halo: CE LAN match, or finally taking down that cutely animated boss that's killed you 30 times in a row--it's enthralling, live excitement, and it's something gamers live for.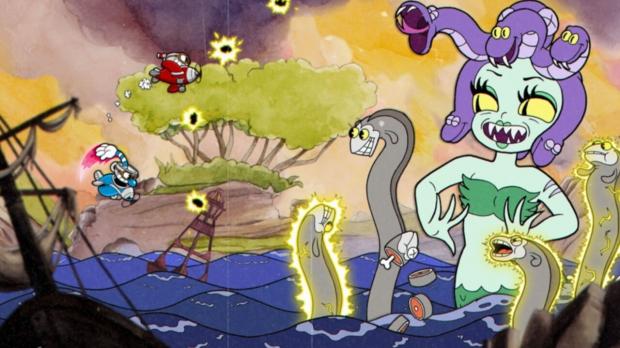 Another great reason why it's important that Cuphead is hard: longevity.
When a game is beautiful it typically gets a cult following. Cuphead already had a cult following long before it was released, or demoed...but as reports of it being "hard as nails" started to drip-feed to gamers, it piqued our interest. Gamers love a challenge.
So that following grew and grew. Soon everyone was talking about Cuphead but no one knew when it was coming out. Reports of it being hard buzzed around, amplifying that current of excitement. Once we got a release date and previews started rolling out, gamers were clamoring for this unique indie that had stolen their hearts. People wanted to play it because it was beautiful, it had reports of being tough as hell, and it had these neat mechanics that reminded gamers of older titles they knew and loved.
When a game is difficult it has a life of its own. It conjures up determination in players: you might not beat that boss today, but you'll take them down sometime. Tomorrow, a week later. But sometime. You're determined to win, and it's this determination, this will, that makes the game into a kind of wall or hurdle you want to smash or jump over. It's a challenge, and it's something you can always be challenged by--even the best Cuphead players make mistakes and the game is all too eager to punish you for them.
Not everyone will love Cuphead, and that's perfectly fine. But those who get caught up in the storm of triumph, fury, and 1930's animated splendor are able to experience the unique, unfiltered magic this particular indie has to offer.
Not anyone can beat Cuphead, and that's okay too. Buying a game outright shouldn't give you the right to completely dominate that experience. You're entitled to the experience the developer made, and really, not much more (but there is a fine line if a game is broken with bugs, glitches, or horrible mechanics). Games should take some skill to beat, should take some investment other than time, and I'm glad indie games are reviving this kind of learning curve that pushes players to their limit and beyond in order to beat a level or vanquish a foe.
Without challenge there can't be any real triumph, and again, that sense of winning is incredibly important for a smaller indie like this.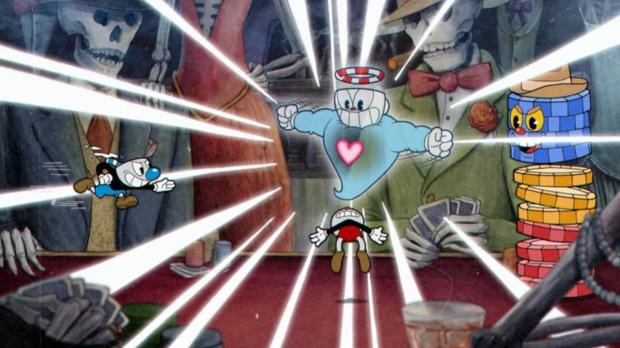 The style and difficulty give the game longevity and ensure the life it has is bright and bold. Cuphead is a game that you can keep coming back to over and over and keep playing because it's difficult, but also because you love the style. The two things are actually quite symbiotic and offer a unique experience that hearkens to the old-schooling shoot-em-up days while splashing in a hefty does of something new, something unexperienced before.
The art, the music, the sound effects, everything creates this window into the past that was only preserved in cartoon form, but now we can actually interact with the cartoons. We can play a video game that's a wormhole to the days of yore.
But without it's difficulty, Cuphead might've ended up as a passing fad. Because it's punishingly hard people will be talking about it for some time, tossing tips back and forth, fondly remembering old--and new!--triumphs, and returning to it to finally take down that animated baddie once and for all.
But the best thing about Cuphead isn't its visuals, its sound quality, or its style. The best thing about Cuphead is that it brings people together because it's difficult, because it supports couch co-op (sadly a rare thing these days), because it's beautiful, and because people love looking at curious windows to the past.
And to me, that's a great thing.