Report: Marvel vs Capcom: Infinite had meager budget
Capcom reportedly used the budget for Street Fighter V's DLC to fund Marvel vs Capcom: Infinite's development costs.
Published
2 minutes & 21 seconds read time
Sources reportedly close to Capcom tell YouTuber "Gaming History Guy" Liam Robertson that Marvel vs Capcom: Infinite's budget was rather meager, and that the team recycled art assets and animations from previous games in the series.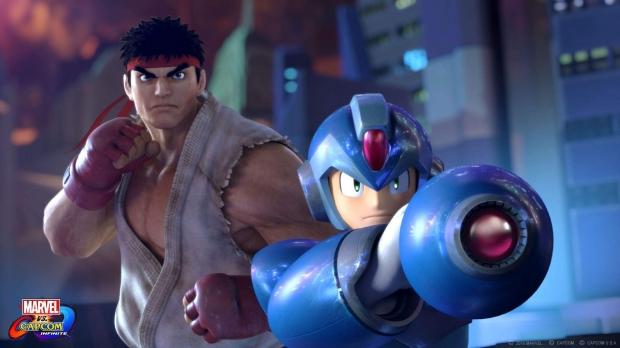 There's something off about Marvel vs Capcom: Infinite. Gamers knew right away from the trailers, which were near universally panned by fans, but the fighter's actual release confirmed their suspicious--something weird was going on with the game. According to unnamed sources who are reportedly close to the developer (who affirmed their veracity by being right about the upcoming Monster Hunter DLC for MvC: I), this is because Marvel vs Capcom: Infinite had a restricted budget and developers had to make do with what they already had from previous games like MvC 3.
How much did Capcom spend on the fighter? The sources say the "shoestring budgeting approach" amounted to little over half the reserved budget for Street Fighter V's DLC.
"A vast amount of Infinite was apparently cobbled together from pre-existing internal assets to cut costs. The main source for these assets was Marvel vs Capcom 3," Mr. Robertson said in the video. Capcom developers were concerned about recycling assets, but management saw no real issues with this approach and typically ignored their workers, sources told Mr. Robertson.
If this is true, it paints a bleak picture for the game's success where it matters most: hardcore fans that will continue buying the games. And Disney's Marvel team can't be too happy about these reports, either, although they'd likely care mostly about sales. The Marvel vs Capcom series is lucrative--Marvel vs Capcom 3 sits at number 25 on the publisher's top-selling franchises--and it's likely that Capcom spent most of its allotted budget on the upcoming Monster Hunter World, a cross-platform online RPG that's the most ambitious game in the massively popular series of games.
The strange thing here is that Capcom predicted that Marvel vs Capcom: Infinite would sell quite well. At least it did at the end of its Fiscal Year 2016 earnings.
As per the company's FY17 results, Capcom expects Marvel vs Capcom: Infinite to sell 2 million copies globally.
Capcom sales forecasts as of April 30, 2017 (FY16, Past):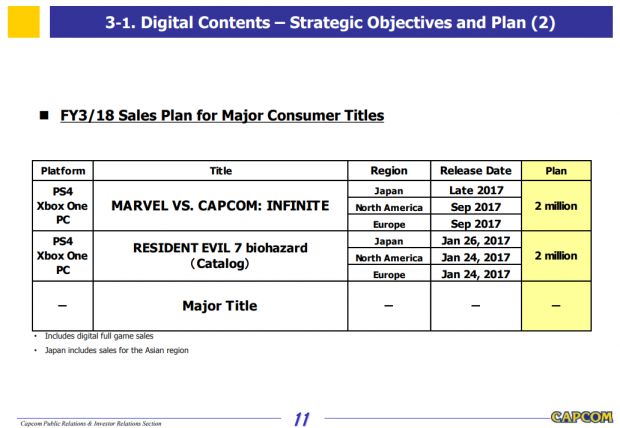 Capcom adjusted these metrics throughout the current Fiscal Year 2017 timeline when it missed its sales milestones for major releases like Resident Evil 7, but didn't pinpoint an exact sales figure for MvC: Infinite this time around.
Following the failure to meet internal estimates, the company announced that it will no longer deliver forecasts on a per-game basis.
Instead, Capcom forecasts total sales of new games to hit 10.3 million units worldwide, including Monster Hunter World and other new games release during the fiscal period.
Capcom sales forecasts as of July 2017 (Q1'17, Current):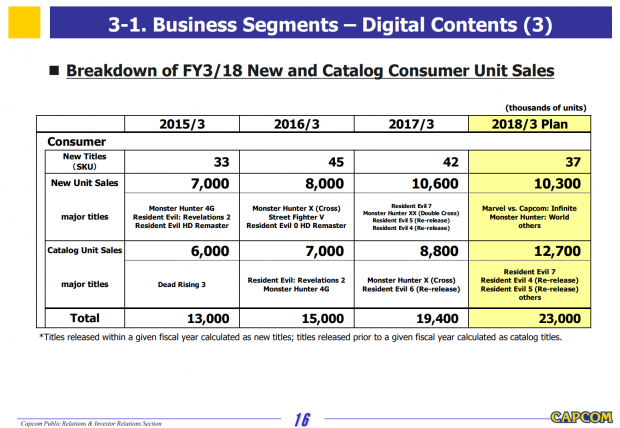 We've reached out to Capcom and will update when and if we receive statements, but this kind of information is extremely sensitive so I don't expect confirmations.
Related Tags