Destiny 2 Xur inventory for Week 1, Sept 15-16
Xur is back in Destiny 2, and here's what that mysterious shadow broker is peddling.

Published Fri, Sep 15 2017 1:16 PM CDT
|
Updated Tue, Nov 3 2020 11:54 AM CST
Xur, that shadowy Santa Claus from the cosmos with a Cthulu-ian face, has made his first appearance in Destiny 2. Here's an in-depth look at what he's selling.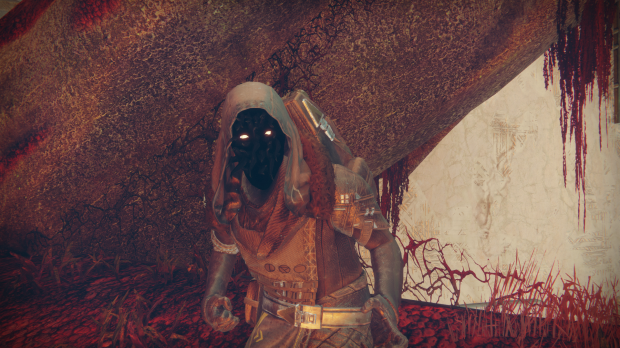 Xur's appearance in Destiny 2 is much like the original game: the mysterious merchant is still selling four exotics: one weapon and three armor-based items each for a Titan, Warlock, and Hunter. Unlike the original Destiny, however, Xur is actually found in the open world this time around and not in a safe space like a town. Also he's not exactly hidden this time, but marked with a "IX" indicator on a planet's map.
For Week 1 users can find Xur on Nessus near the Watcher's Grave region to the northernmost section of the planet. If you can't find him right away be sure to look up--Xur is conspicuously tucked away on an autumnal tree branch next to the crumpled corpse of a Hezen Collective Vex.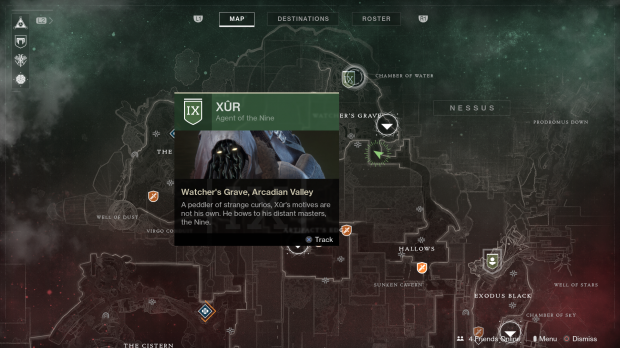 Xur's items are no longer bought with Special Coins earned from Nightfall and Heroic daily matches, but Legendary Marks, which are typically earned from breaking down Legendary gear. Also remember that every exotic item now has the same stats in Destiny 2 so there's no worry about ranges or weighing the pros and cons for specific rolls.
Here's what Xur is selling for Week 1: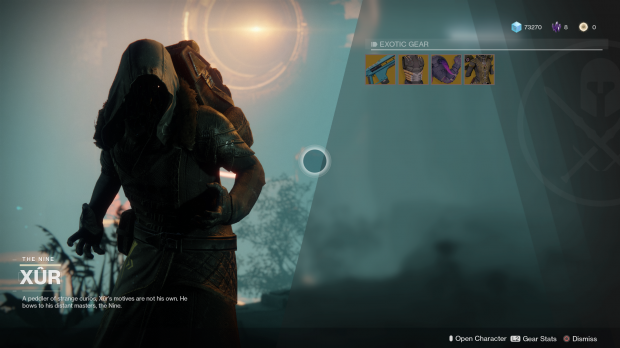 Xur - Week 1 - September 15 - 16 Inventory
Note: Xur is selling items that each individual class gets at the beginning of the game. The only difference is these items have higher defense. It's cheaper in the long run simply to spend the Legendary Shards to Infuse you starter items instead of spending them at Xur.
Merciless (Fusion Rifle)
Cost: 29 Legendary Shards

Damage: 233 (Solar)

Special Perk: Conserve Momentum - Non-lethal hits with projectiles make this weapon charge faster until its wielder gets a kill

Perks: Chambered Compensator, Extended Mag, Impetus, Fitted Stock

Mods: Weapon Attack Mod +5 Attack

Free Ornament Slot
Should you buy it? Yes, grab this one if you can. It always pays to have a powerful Solar fusion rifle.
Raiden Flux (Hunter Chestpiece)
Cost: 23 Legendary Shards

Defense: 233

Special Perk: Synapse Junctions: Quick successive attacks with Arc Staff increase its damage output and duration

Perks: Resilience, Mobility

Mods: Arc Paragon Mod: +5 Defense, class abilities recharge faster when using an Arc subclass

Free Shader Slot
Doom Fang Pauldrons (Titan Gloves)
Cost: 23 Legendary Shards

Defense: 233

Special Perk: Horns of Doom: Shield Bash melee kills recharge Shield Throw. Melee ability kills recharge Sentinel Shield Super

Perks: Resilience, Health Recovery

Mods: Void Impact Mod, +5 defense, Void melee abilities recharge faster

Free Shader Slot
Wings of Sacred Dawn (Warlock Chestpiece)
Cost: 23 Legendary Shards

Defense: 233

Special Perk: Tome of Dawn: When Dawnblade is equipped, aiming weapons while in midair suspends you there for a short time. Precision hits extend this effect's duration

Perks: Mobility, Health Recovery

Mods: Power Bracket Mod, +5 Defense, Improves weapon handling for equipped power weapon

Free Shader Slot
Related Tags