Video game crossovers are great for visibility
Final Fantasy XV's new cross-over with Assassin's Creed is a mustalistic partnership that's great for both parties.

Published Thu, Aug 24 2017 5:14 PM CDT
|
Updated Tue, Nov 3 2020 11:54 AM CST
Square Enix and Ubisoft have teamed up for a surprise crossover promotion, a move which improves visibility and engages players on the respective IPs.
The new promo sees a special Assassin's Festival event being injected into Final Fantasy XV, adding key Assassin's Creed franchise content into the game in a free timed event. Gamers know that FFXV is no stranger to in-game advertisements--ahem Cup Noodles--and some may see this move as Square Enix "selling out." But these cross-overs are mutually beneficial for sure: Ubisoft arguably needs no help advertising Assassin's Creed: Origins, as it's the triumphant return of the beloved franchise, but this promo reminds FFXV players about the game while engaging them with new content to boot. In a sense, Square Enix has hit two birds with one stone: achieved an interesting new partnership with one of the most powerful forces of the games industry while providing new content that will pull players back into game, and possibly even spark game sales.
But what about Final Fantasy XV? Surely there will be magical in-game content and weapons crossing over to ancient Egypt too, right? Ubisoft has yet to confirm that AC: Origins will have FFXV-related content, despite the reveal art showing the game's protagonist, Bayek, wielding weapons inspired from the series. I've already predicted that Assassin's Creed: Origins will be monetized via loot-based microtransactions, and it's possible this cross-over could extend into that monetization path. I expect some items will be free, and more premium cross-over items will be monetized in loot boxes in some form.
This cross-over is likely just the beginning, and I'm keen on seeing how Square Enix continues breathing new life into Final Fantasy XV. But who benefits most? That's hard to tell right now. I'd say Assassin's Creed benefits most from this considering the huge Final Fantasy XV install base will essentially become an advertisement for the new game, but the flip side--Square Enix's advantage--should kick off when AC: Origins releases on October 27, 2017 on all platforms.
Remember, Final Fantasy XV isn't just a game: it's a platform within a franchise that serves as a nexus of trans-media, multi-platform content. I recently said that Final Fantasy XV is the new Skyrim because Square Enix is releasing the game across all platforms in some form, and plans to roll out mod support for its illustrious PC version.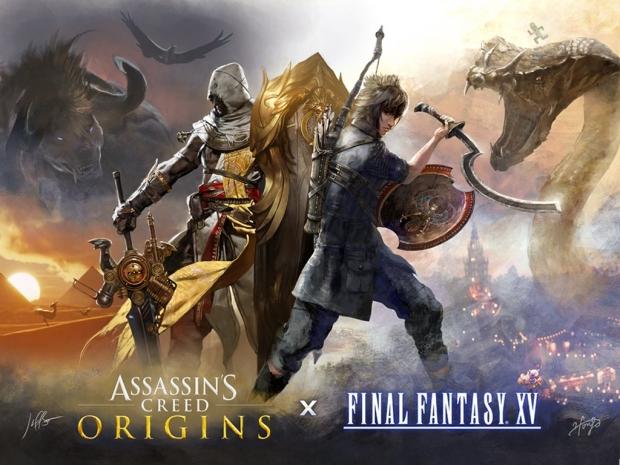 The Assassin's Creed crossover event within FFXV will kick off on August 30 and will include an in-game event with activities and other content. Gamers who complete the event will unlock special Assassin's Creed-themed outfits for the party.
"In what started almost three years ago at an informal meeting during the Tokyo Game Show to express admiration for each other's work, the Assassin's Creed and Final Fantasy XV development teams have announced a collaboration that will result in the two franchises paying homage to each other's gaming universes," Ubisoft wrote in a blog post.
"The collaboration kicks off on August 30, as Final Fantasy XV players who have obtained the Dream Egg from the Moogle Chocobo Carnival event will be gifted a very familiar Assassin outfit for Noctis. The very next day, August 31, will be the release of the free Assassin's Festival DLC for Final Fantasy XV. The town of Lestallum will transform itself for the event with signs and banners signaling the arrival of the festival, and new activities will be available for players to participate in. It doesn't end there. The Assassin's Festival will have some additional themed items and features, including another outfit from Assassin's Creed, along with abilities that enable Noctis to explore more like an Assassin and even use some of the Assassins' more well-known abilities."
Related Tags