ARK Survival Evolved dedicated servers go live on PS4
Dino riders on PS4 can now rent and host their own private, dedicated ARK servers...for a price.

Published Thu, Aug 17 2017 6:41 PM CDT
|
Updated Tue, Nov 3 2020 11:54 AM CST
PS4 gamers can now rent and host their own private slide of open-world prehistoric dino-hunting chaos.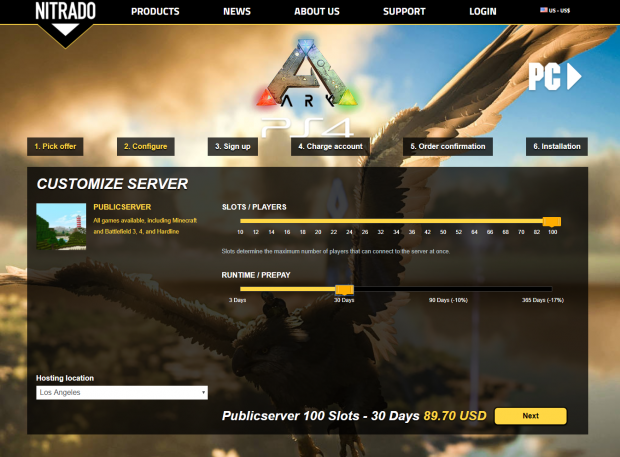 Private rentable servers are now available in ARK: Survival Evolved's PlayStation 4 version, Studio Wildcard today announced. "These servers offer ARK survivors the opportunity to host private, player-run worlds for themselves and their console friends with up to 100 players per server, setting their own in-depth parameters and custom rules for games on their server," the developers said in an official statement.
The first server provider, Nitrado, has a variety of server tiers and plans with four main hubs in Miami, Los Angeles, London and Instanbul. ARK server prices on Nitrado range from $13 a month for 10 player slots to $87.70 a month for 100 players.
The developers at Studio Wildcard faced backlash after raising the price of ARK: Survival Evolved from its original early access price of $30 to $59.99 on all platforms, or the price of a fully finished AAA game. ARK still remains in early access and is now priced as a big-name blockbuster. The developer defended the move by saying that ARK will launch as a finished product in late August, and the company wanted to "ensure retail parity for the game's upcoming launch."
The developer was also heavily criticized before this for releasing a $20 add-on DLC for ARK while the game remained unfinished in early access.
ARK: Survival Evolve's retail version is slated to launch as a physical and digital product on August 29, 2017 on PlayStation 4, Xbox One and PC.
Related Tags