Stormblood helped Square Enix MMO segment earn $84m
Despite only being on the market for ten days, Final Fantasy XIV's Stormblood expansion tremendously boosted MMO segment net sales.

Published Tue, Aug 8 2017 5:29 PM CDT
|
Updated Tue, Nov 3 2020 11:54 AM CST
Square Enix's MMO segment is enjoying landmark success thanks to Final Fantasy 14's new Stormblood expansion.
In its latest quarterly earnings filings, Japanese games-maker Square Enix confirmed that Stormblood is having a big effect on earnings. Stormblood was only on the market for 10 days before the company's fiscal Q1'18 quarter ended on June 30, and in that time the expansion managed to help surge MMO segment revenues by 67% year-over-year and 58% quarter-over-quarter.
While Square Enix didn't reveal exact sales numbers or revenues for Stormblood, it did announce figures for the MMO segment: in that 10-day period, Stormblood helped earn 9.3 billion yen ($84.304 million) in net sales, which is roughly 21% of the total Digital Entertainment revenues for the quarter. The company notes that Stormblood helped surge physical and digital sales as well as active paid subscriptions for Final Fantasy XIV.
"In the area of massively multiplayer online role playing games, revenues from sales of the latest expansion disk of "FINAL FANTASY XIV" and increase of number of monthly subscribers boosted by the expansion resulted in an increase of net sale and operating income, compared to the prior fiscal year.

"Net sales and operating income in the Digital Entertainment segment totaled ¥44,168million (an increase of 17.7% from the same period of the prior fiscal year), and ¥13,724million (an increase of 44.9% from the same period of the prior fiscal year), respectively."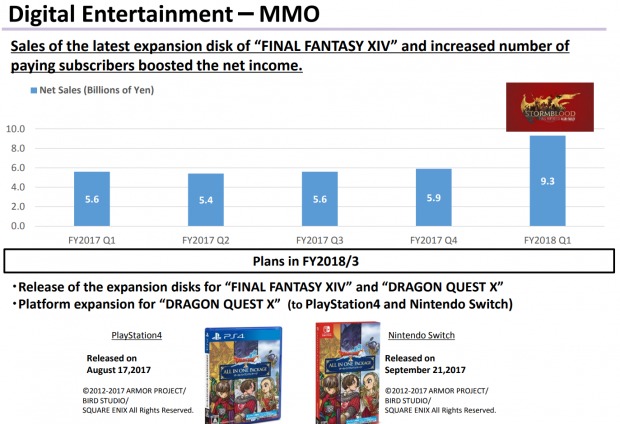 But that's not it: Stormblood also helped the popular MMORPG break its 10 million cummulative players milestone, and the global playerbase continues to grow due to high-quality expansions and a smattering of content updates.
MMO segment net revenues are poised to spike thanks to the release of the mega-popular Dragon Quest X MMORPG on PS4 and Nintendo Switch in the second quarter period (fiscal Q2'2018), which will also have a direct impact on total Digital Entertainment net revenues for the period.
Final Fantasy XIV is set to celebrate its third anniversary since the game was revived in August 2013, and Square Enix plans to release even more expansions and free content updates to keep active subscribers engaged.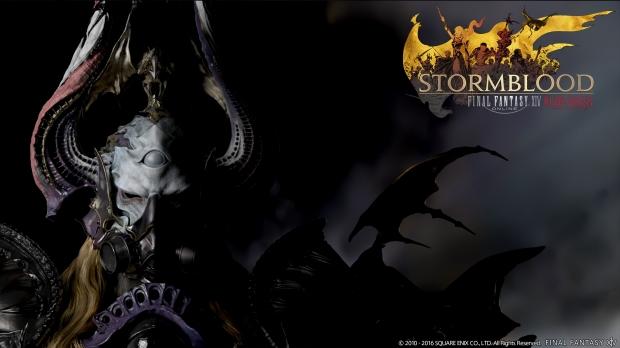 Related Tags