Tech titan Microsoft has reported its total yearly and fourth quarter earnings for the fiscal year ending June 30, 2017, showing substantial earnings spikes in all segments.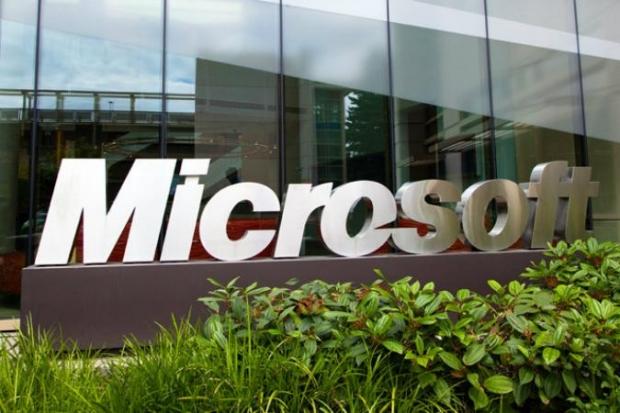 Microsoft pulled in a total of $90 billion in revenues for Fiscal Year 2017, handily beating Wall Street's predictions thanks to a big tax write-off from its mobile phone business (Microsoft recorded an effective tax rate of 8% of reported GAAP revenues versus the 15% tax rate in FY16) and impressive growth in the giant's four major segments.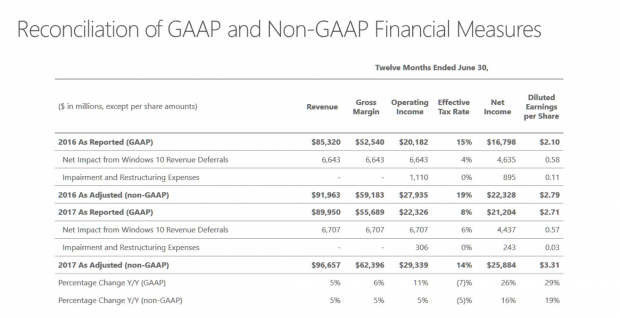 The Redmond-based company reported operating income $22.3 billion for the fiscal year, and net income of $21.2 billion. As Business Insider notes, these figures caused Microsoft stock to climb.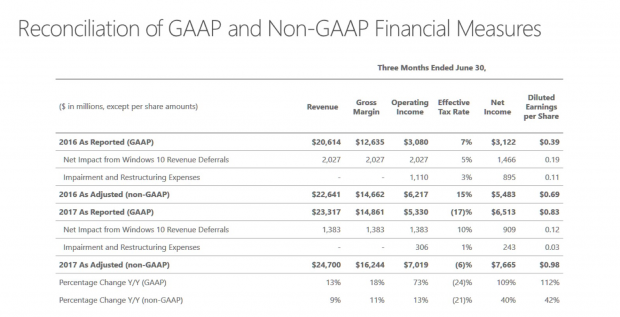 Fourth quarter earnings saw a 21% spike in Productivity and Business Processes segment revenues to $8.4 billion driven by profitable ventures like LinkedIn and continued Office 365 subscriptions and the company's new Microsoft 365 software, which bundles Windows 10, Office 365 and Enterprise Mobility + Security in a single package. Microsoft confirmed that it now has 27 million Office 365 consumer subscribers.
Total Q4 revenue was $23.3 billion, with $5.3 billion operating income and a net income of $6.5 billion.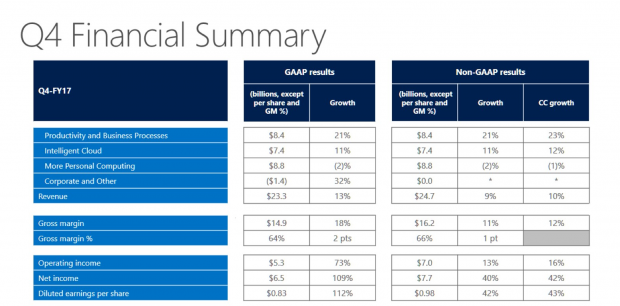 "We closed the highest number of multi-million-dollar Azure deals to date, and improved our annuity mix to 86 percent, up 3 points year-over-year," said Amy hood, Chief Financial Officer of Microsoft. "As a result, commercial bookings grew 30 percent, and commercial unearned revenue was $27.8 billion, significantly higher than we expected. Our contracted not billed balance increased to more than $31.5 billion."
"As Satya mentioned earlier, our commercial cloud annualized revenue run rate exceeded $18.9 billion this quarter, growing 56 percent. We finished the year with nearly $15 billion in commercial cloud revenue."
Microsoft Q4'17 Earnings By Segment
Productivity and Business Processes: $8.4 billion (+21%)

Intelligent Cloud: $7.4 billion (+11%)

More Personal Computing: $8.8 billion (-2%)

Corporate and Other: -1.4 billion (32%)

Total Revenue: $23.3 billion (+13%)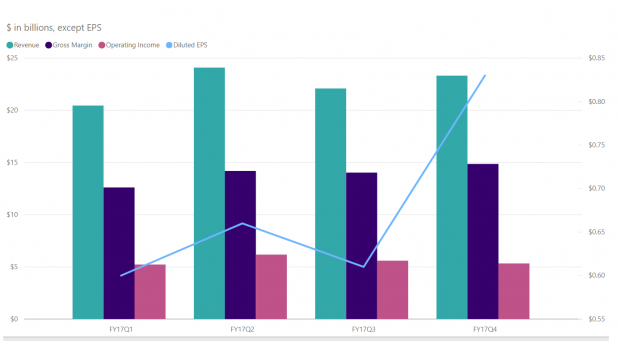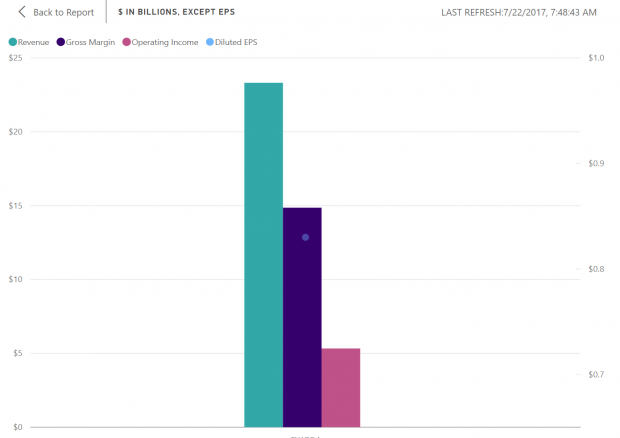 "I'm proud of the progress, particularly the strength of our commercial cloud results. FY17 all up was a tremendous year of customer momentum with cloud, AI progress and digital transformation," said Microsoft CEO Satya Nadella.
"Our technology world view of an Intelligent Cloud and an Intelligent Edge is resonating with businesses everywhere. Every customer I talk to is looking for both innovative technology to drive new growth as well as a strategic partner who can help build their own digital capability. Microsoft is that trusted partner."
For a full analysis of Microsoft's gaming division revenues and performance for Q4 and FY17, click here.