Ubisoft's digital-first plan is paying off big
Thanks to its digital-first initiative, Ubisoft rakes in $202.78 million in first quarter sales without even releasing a new game.

Published Wed, Jul 19 2017 3:25 PM CDT
|
Updated Tue, Nov 3 2020 11:54 AM CST
Ubisoft's move to future-proof its games and embrace the digital market is paying off big as the French games-maker reports big earnings despite not releasing any new games.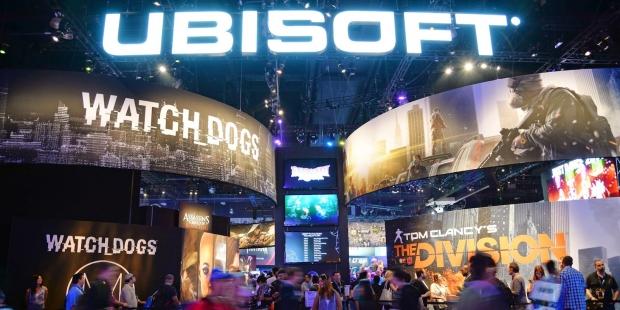 In the last few years Ubisoft has transformed from a company that relies strongly on game sales into a massively profitable business whose games now make money long after their initial sale. This paradigm shift made Ubisoft one of the most interesting companies to cover, and now the European titan has created a billion-dollar empire with strong recurring revenues. Case in point: Ubisoft just made 202.1 million euros ($232.71 million) in its first quarter 2017 without releasing a single new game.
In the first quarter of FY18, Ubisoft pulled in total sales of 202.1 million euros ($232.78 million), up 45.2% year-over-year since Q1'16. Total Q1 sales exceeded Ubisoft's 170 million euro target by 18.88%. The company reports that digital is making up more and more of its total sales revenue, and for Q1'17 digital accounted for a staggering 80.4% of sales, or 164.2 million euros ($189.07 million).

Microtransactions, season passes, DLC, and in-game purchases continue earning big for Ubisoft: the games-maker earned 83.1 million euros ($95.69 million) in the first quarter, with PRI (player recurring investment) up an impressive 73.4% over last year's first quarter. In fact, these digital in-game purchases made up 41.1% of total sales in the first quarter.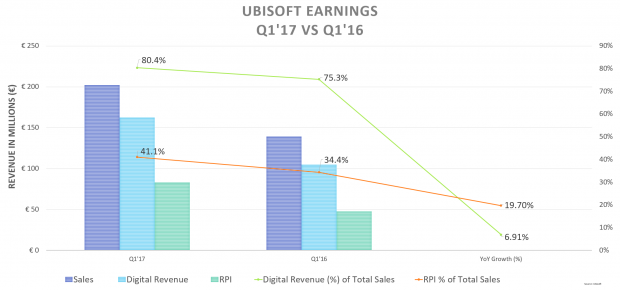 I've included an extensive breakdown of graphs above and below to illustrate Ubisoft's growing success in the digital games segment.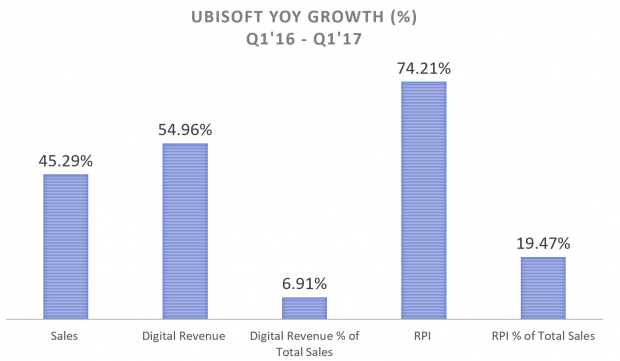 "Fueled by the digital segment - which saw a sharp increase in player recurring investment - as well as a strong showing from our back catalog, our sales for the first quarter of 2017-18 came in well ahead of our targets, up
45%, despite the fact that there were no major new releases during the period," said Ubisoft CEO and co-founder Yves Guillemot.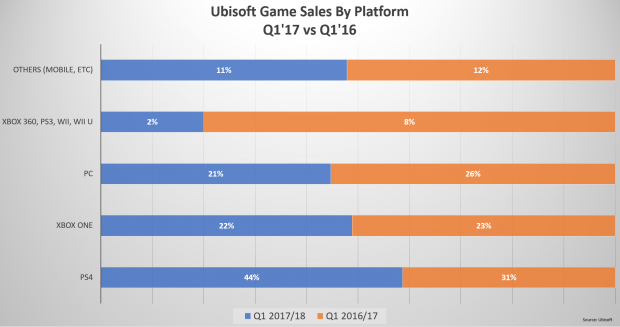 "At this year's E3, our teams presented an outstanding line-up and I would like to thank them for their amazing work which has been recognized by the entire industry. Our games have generated enormous enthusiasm among the player community, which supports our expectations for the full year."
"Thanks to our increasing ability to engage players over the long term, combined with our unique creative strengths, we are even more confident of achieving our targets for 2017-18 and 2018- 19. We expect both of these factors to continue being key drivers of value creation in the coming years."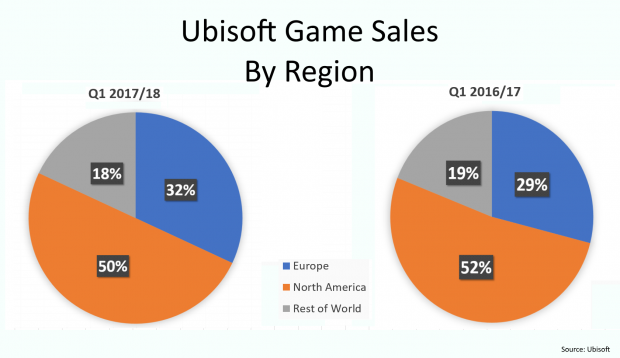 Related Tags