North Americans to spend most on mobile game purchases
North American gamers are to spend the most money per user on in-game mobile game purchases in 2017.

Published Wed, Jun 28 2017 6:21 PM CDT
|
Updated Tue, Nov 3 2020 11:55 AM CST
North American gamers are expected to spend more money on average in per-user mobile game purchases than other worldwide regions throughout 2017.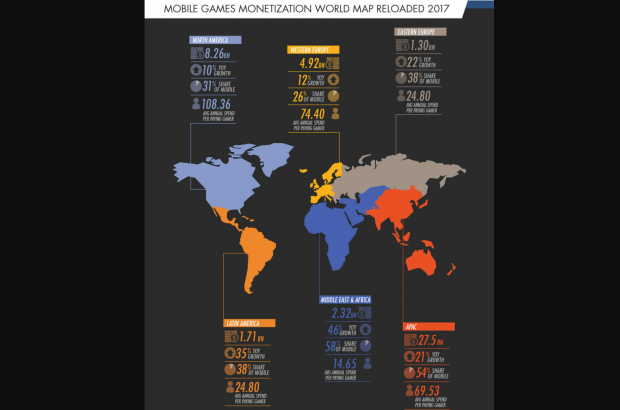 Mobile gaming is expected to rake in $46 billion in worldwide revenues, and account for 46% in total gaming revenues of $108.9 billion for 2017. Although China is leading in smartphone games revenues with $27.5 billion expected for 2017, North American mobile gamers actually spend more money in mobile games on an average per-user basis.
According to a new infograph published by Newzoo and AppLift, North American mobile game players will spend an average of $108.36 per paying user every year, the highest of all other global regions.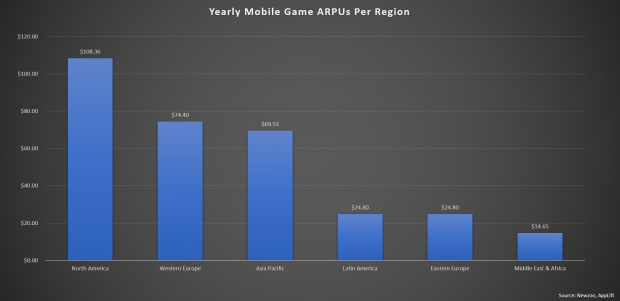 With in-game purchases and microtransactions, mobile gaming is a lucrative industry that is only expected to go throughout the years. By 2020, Newzoo predicts mobile gaming will make up 50% of the games industry's revenues, or $64.9 billion.
The world's top leading publishers have been embracing more and more in the hopes of emulating the giants like Supercell: Ubisoft plans to release a new Assassin's Creed mobile game alongside a new South Park title, and Nintendo has been tapping the market with successive releases based on its most popular IPs, including Mario and Fire Emblem. Square Enix has also released a fleet of its back-catalog classics to the platform, and is embracing free-to-play experiences with its Final Fantasy XV game.
Related Tags