Destiny 2 post-release content made by Vicarious Visions
Bungie is getting extra help from devs like Vicarious Visions to ensure Destiny 2 has a proper stream of post-release content.

Published Fri, May 5 2017 5:24 PM CDT
|
Updated Tue, Nov 3 2020 11:55 AM CST
Vicarious Visions, the team behind Activision's myriad Skylanders games, will help ensure Destiny 2 has a steady stream of post-release content, expansions, and updates.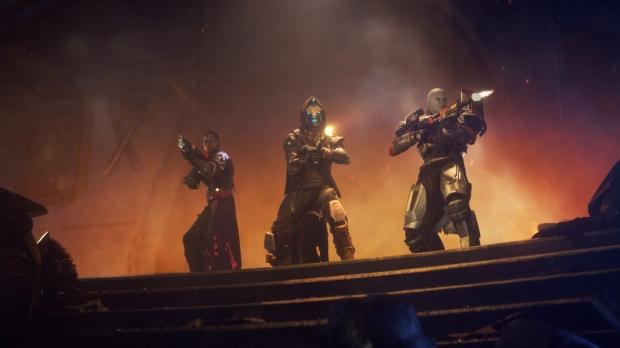 We've known for a while now that has Bungie enlisted the help of Vicarious Visions and other devs to work on the new Destiny sequel--after all, Destiny 2 is releasing on PC and will include a slew of new features and a dynamic storyline.
But up until now we weren't exactly sure what role these devs would have in the juggernaut shared-world FPS. As it turns out, the Skylanders devs will work alongside Bungie on Destiny 2's expansions and post-release content to facilitate maximum engagement--which drives active users and subsequent microtransaction earnings.
Activision CEO Eric Hirshberg revealed this tidbit during the company's Q1 2017 earnings call:
"So as you know from our past comments on Destiny 2's content, we're coupling Bungie's great visionary leadership with multiple AAA developers that have a proven track record here at Activision to help us make sure that we have one great piece of new content right after another to keep the community engaged. We've shown that when we have great engagement, great business follows," Hirshberg affirmed.
And rightly so: Destiny's earnings and engagement have been strong contributors to the company's continued success.
The Activision CEO goes on to iterate just how important it is to get Destiny 2's post-release content just right. An online-based game like Destiny lives or dies by the strength of its extra content. Gamers need a steady influx of new missions, items, quests and other additions to keep them playing, and every new patch or content update will drive up engagement by pulling in returning players and new gamers alike.
It's a proven method that Activision, EA, Ubisoft and many more are well-versed with, so Activision isn't messing around with Destiny 2.
"The most important thing for this franchise beyond delivering a great game, which Destiny 2 is definitely going to do, as we talked about in the past, is getting the content pipeline right. Destiny's engagement has been the best in Activision's history, and we now have a lot of confidence that we're going to be able to keep up with demand with that steady stream of great content to sort of keep pace with our player's engagement post the release of Destiny 2."
Two expansions for Destiny 2 have been confirmed so far, but no details have been announced, and it's highly likely that Bungie's consortium of dev help will assist in these expansions and all the content that comes after.
Read Also: Destiny 2 will have proper PC port, Activision says
Bungie's original Destiny game was quite stagnant for months and months, but then the developers salvaged the game by releasing the acclaimed The Taken King expansion. This new expansion was exactly what the game needed and gamers returned in droves to experience the content, which creatively overhauled and tweaked the existing game to make it feel "new" while also delivering actual fresh content to boot.
This strategy, coupled with Activision's intimate knowledge in tactical engagement-boosting content pipelines, will drive Destiny 2's post-release content. It's great to see Activision is taking this seriously, but let's not forget about one big point: microtransactions.
I'm almost certain Destiny 2 will have microtransactions.
Remember the original game instituted cosmetic microtransactions to help pay for the live updates...but the massive MTX earnings far outweighed the development costs of the scarce tweaks and updates. And ever since Destiny has been pulling in wave after wave of microtransactions and contributing to the company's net in-game revenues.
Since this has worked so well for the first game, don't expect Destiny 2 to be any different. It'll be a buy-to-play online-based shared-world shooter that, like most games of its kind, will be infused with in-game purchases. I fully expect to see the MTX take off in Destiny 2 simply because the sequel will be on consoles and PC this time around.
Let's just hope the MTX stay cosmetic this time around.
Destiny 2 will release on September 8, 2017 on PS4, Xbox One and PC.
Related Tags