Nintendo Switch outsold PS4 for seven weeks in Japan
Comparing PS4's and Switch's respective seven-week launch sales, we see Nintendo's handheld-hybrid conquer Sony's juggernaut.

Published Fri, Apr 21 2017 10:31 AM CDT
|
Updated Tue, Nov 3 2020 11:55 AM CST
If Nintendo could only keep up with demand and supply consumers with enough hardware, its new mega-popular Switch console may very well de-throne Sony's juggernaut PlayStation 4 console.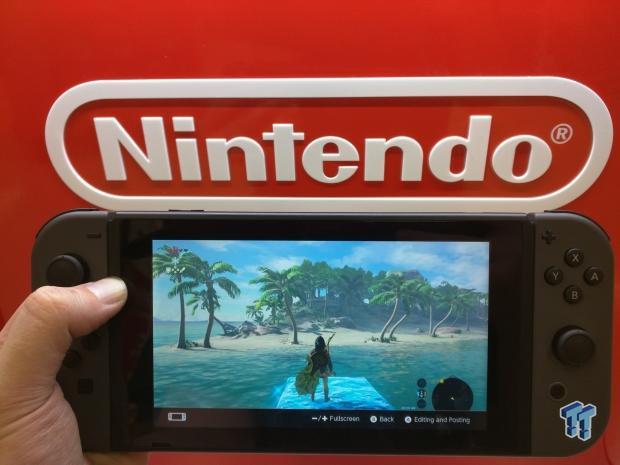 It's no secret that Nintendo's new handheld-console hybrid is selling extremely well: the system has triggered a meteoric rise in Nintendo stock with over 2 million consoles sold across the globe. Japanese gamers are quite receptive to the Switch, with 330,637 units sold in Japan in the first weekend alone. But can the Switch topple the PlayStation 4's mighty reign on the console sales market? It actually kind of already has.
When comparing Nintendo Switch and PlayStation 4 respective launch sales in Japan, the Switch actually beat the PS4 by 20,000 units. In fact, in the total seven weeks of the Switch's availability, Nintendo's new console outsold Sony's juggernaut for six weeks. Japanese forum site 2ch recently compared the Switch's first seven-week sales with the PS4's respective early sales, showing the demand for the Switch is consistent over every single week.
Read Also: Nintendo Switch Review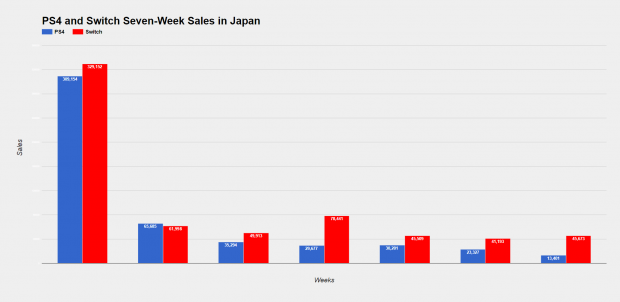 Back in January we reported that the Nintendo Switch appeals to Japanese smartphone gamers, and the system's handheld hybrid nature is its secret weapon against competitors. Handheld gaming is huge in Japan, as is smartphone gaming, and the Switch already meets one of those markets. It's possible Nintendo will bring its freemium-style software to the Switch in the future to appeal to smartphone gamers, but remember the Switch doesn't have cellular internet for an always-online experience.
We can only imagine how far the Switch will carry Nintendo in the company's next fiscal year (FY2018), and we expect the console to become even more popular in all regions thanks to its strong lineup of first-party and third-party content.
Market research firm SuperData notes the Nintendo Switch has sold 2.4 million units globally as of March 31, surpassing the original 2 million goal set forth by Nintendo President Tatsumi Kimishima. Nintendo's stock has risen by almost 20% since the Switch was revealed on March 3, and hasn't faltered over the last seven weeks.
Nintendo is expected to reveal exact Switch sales figures and fourth-quarter earnings during its Fiscal Year 2018 earnings call on April 27, 2017, so we should get a good glimpse at the Switch's success then.
Related Tags