'High fidelity VR' scrubbed from Project Scorpio website
UPDATE: Microsoft has re-confirmed Project Scorpio will support 'high-fidelity VR' at launch, but didn't explain why it was removed from the site.

Published Wed, Jan 25 2017 6:14 AM CST
|
Updated Tue, Nov 3 2020 11:56 AM CST
UPDATE: Microsoft has responded to the reports by re-confirming that Project Scorpio will indeed support high-fidelity VR gaming when it becomes available.
"When Project Scorpio ships later this year it will be the most powerful console ever built with a 6 teraflop GPU to deliver true 4K gaming, high-fidelity VR experiences, and greater graphic fidelity. We have nothing additional to share at this time," a Microsoft rep told Gamespot.
Original story is as follows.
Microsoft has scrubbed any mention of 'high fidelity VR' from Project Scorpio's website--is this a small coincidence, or is the company preparing for the worst? And will Project Scorpio be capable of maintaining the promised VR gaming spec touted by Redmond?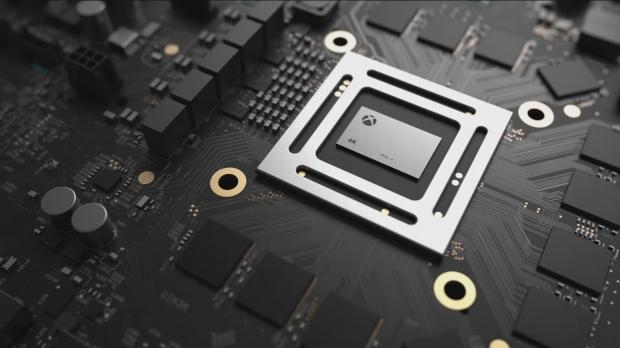 One of the main selling points of Microsoft's new high-end Project Scorpio--besides delivering "the highest res at the best frame rates without no compromises"--was its virtual reality capabilities; Microsoft was keen on pushing a higher-end VR experience that would eclipse what Sony offers with its PS4-powered PlayStation VR headset. Xbox General Manager of Game Publishing Shannon Loftis has said that Project Scorpio can deliver high-fidelity VR at 90 FPS
But has this changed? Has Microsoft shifted gears away from premium VR gaming with its new console? All mention of 'high fidelity VR' has been erased from Project Scorpio's website. This is particularly interesting timing because Microsoft has recently hired many of the industry's top tech-makers like ASUS, Acer, Dell, Lenovo and HP to create Windows 10 powered VR headsets. I postulated that this move would help foster Project Scorpio's own ambitious VR plans, but it appears that instead of pushing things forward, these OEMs might have encountered a snag in the progress, thus affecting the console's VR-ready status.
One thing that's also different is that Microsoft no longer claims that Project Scorpio is the "first and only console to enable true 4K gaming." This is likely at the behest of its own community and Sony fans, especially considering the PS4 Pro can deliver upscaled 4K gaming as well as VR.
Below you can compare an archived listing to the current Project Scorpio website to see for yourself: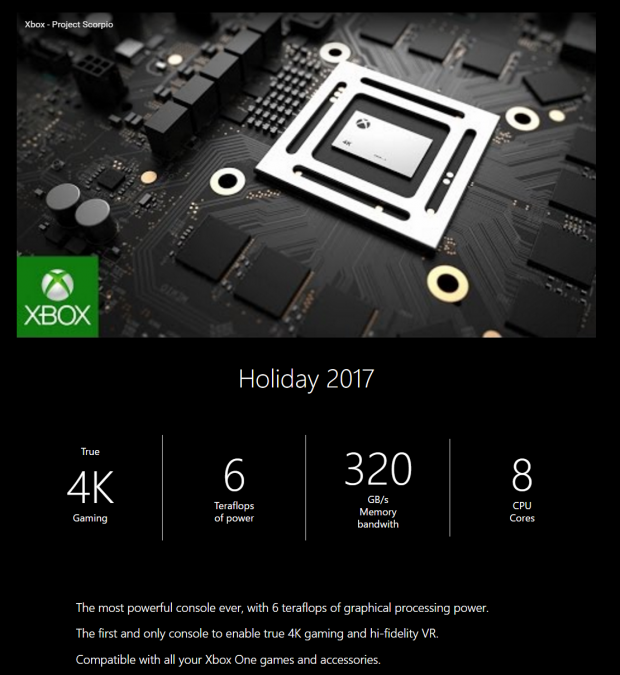 Old Project Scorpio listing:
Link: https://web.archive.org/web/20161114230543/https://www.Xbox.com/en-US/project-scorpio
"The most powerful console ever, with 6 teraflops of graphical processing power.

"The first and only console to enable true 4K gaming and hi-fidelity VR.

"Compatible with all your Xbox One games and accessories."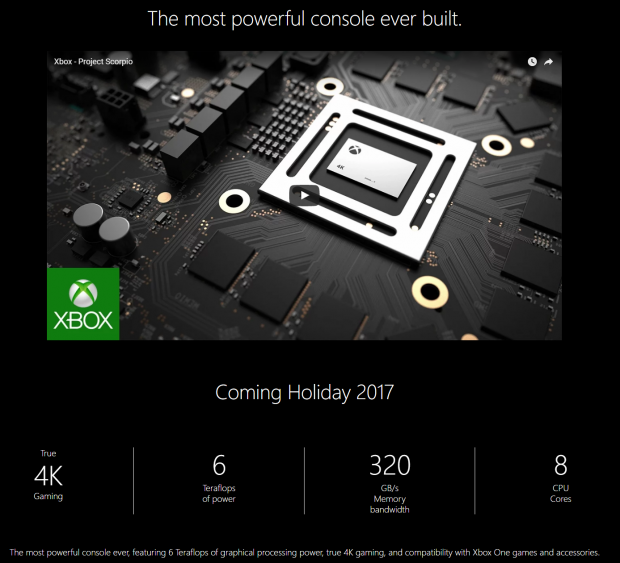 Current Project Scorpio listing
Link: https://www.Xbox.com/en-US/project-scorpio
"The most powerful console ever, featuring 6 Teraflops of graphical processing power, true 4K gaming, and compatibility with Xbox One games and accessories."
Also...what's with this "True 4K" thing, Microsoft?
Why not say native 4K? Xbox exec Mike Ybarra confirmed Project Scorpio is capable of native 4K, and so did Microsoft's Shannon Loftis:
"Any games we're making that we're launching in the Scorpio time frame, we're making sure they can natively render at 4K," Loftis said in an interview with USA Today.
This tells me that Project Scorpio will mostly hit True 4K, which is the company's PR-speak for upscaled 4K. As Loftis said, only games closer to Project Scorpio's launch in 2017 will target native 4K rendering which is kind of worrisome. So I think all of the older Xbox One games will be upscaled 4K, and only newer games will support native 4K.
Read Also: Project Scorpio's GPU is 4.5x faster than Xbox One
Xbox execs are pretty confident and proud of Project Scorpio: Aaron Greenberg has affirmed the system will basically deliver a new era of 4K gaming.
What's more is that the early Project Scorpio build is now in a playable state, and Xbox division boss Phil Spencer recently tried it out, commenting that "games played great, console looked right, proud of the team."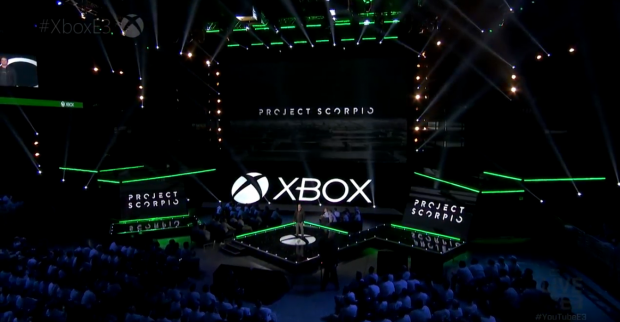 Despite all the hype surrounding Project Scorpio, Eurogamer's Digital Foundry received a tip from an anonymous Microsoft developer on a new whitepaper called Reaching 4K and GPU Scaling Across Multiple Xbox Devices which discussed how the console will hit 4K gaming. This whitepaper, which was released by Microsoft to developers, wasn't released or leaked to the public, and was analyzed by Digital Foundry's Richard Leadbetter, so we can't confirm or deny any of its content.
Leadbetter's analysis on the whitepaper's content delivered a blow to Project Scorpio's hype, with many tech sites suggesting that the console may not use AMD's new Ryzen CPU technology or its new Vega GPU architectures, instead opting for Polaris GPU tech. So essentially gamers now believe Project Scorpio will be an upjumped PS4 Pro in all actuality, with boosted TFLOP compute power and Windows 10 UWP integration.
This so-called "leak" has damaged Project Scorpio's reputation and I'm curious to see how Microsoft will restore faith in its new system.
The scrubbing of any mention of VR could be a coincidence, but it could also mean Project Scorpio won't be VR ready when it launches in Holiday 2017. I doubt Microsoft will reveal full details about what's going on until they're good and ready, but we expect Project Scorpio to be formally unveiled at E3 2017 in June.
Project Scorpio will release in Holiday 2017 and no pricing was announced. I originally predicted a price of $599 given the high-end specs that could be inside of it, but now I'm quite unsure. That whitepaper sure did mix things up quite a bit, and it's hard deciphering Microsoft's PR speak.
Related Tags