Tomb Raider, Deus Ex and Final Fantasy publisher Square Enix's European account has been hacked, and the would-be ne'er-do-wells are trolling the industry.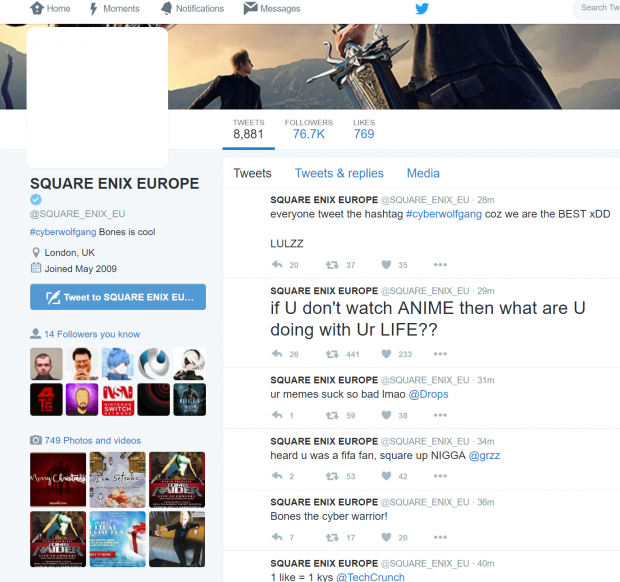 Almost an hour ago, Square Enix Europe's Twitter account started spewing ridiculousness to its 70,000+ followers, leading gamers and fans to come to the obvious conclusion: the account has been compromised. The hacking group responsible for the invasion is apparently called the #cyberwolfgang, and the users are currently still in full control over the account.
Just months ago No Man's Sky developer Hello Games had their Twitter account compromised, leading to the damning--if not quite true--statement "No Man's Sky was a mistake" put out for the entire world to see.
It'll be interesting to see what happens, and we'll be sure to update the post once we hear more.
people at the Square Enix HQ pic.twitter.com/wtSBTz4FXA

— SQUARE ENIX EUROPE (@SQUARE_ENIX_EU) January 6, 2017
Fifa is such a shit game LOL RT

— SQUARE ENIX EUROPE (@SQUARE_ENIX_EU) January 6, 2017
I AM THE GREATEST HACKER ALIVE.... SOMEONE HIRE ME LOL

— SQUARE ENIX EUROPE (@SQUARE_ENIX_EU) January 6, 2017