Backward compatible games now up on Xbox One store
All backward compatible Xbox 360 games are now listed in a section on the Xbox One store, but they're all overpriced.

Published Wed, Sep 28 2016 10:14 AM CDT
|
Updated Tue, Nov 3 2020 11:58 AM CST
You an now buy and search all Xbox 360 backward compatible games on the Xbox One store, Microsoft has announced.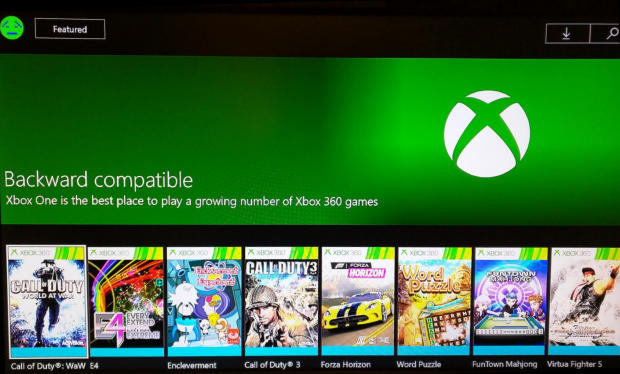 (Please excuse the photo, I had to take a picture of my screen because the Xbox One doesn't let you take screen captures of the storefront or main screen.)
In an effort to consolidate convenience with a nostalgia tax, Microsoft now makes it easier than ever to purchase and search through the Xbox One's full backward compatible Xbox 360 games library. The full listing of backward compatible Xbox 360 games are now up on the Games on Demand section on Xbox One. While this sounds like a great idea on the surface, Redmond didn't waste any time in mucking it up: the Backward Compatible games list is seven rows below all the other pre-order junk and miscellaneous crap Microsoft tries to peddle, and the games are often higher in price than they should be.
For example, Call of Duty: World At War just made the backward compatible list, and Microsoft is selling it at $19.99 with tax. Really, Microsoft? You can get that game for like $6 on eBay. It's another layer of awful retail pricing that no one should have to pay for such old games, but hey, everyone already owns these games anyway right?
In any case, just use this listing as a means of searching to see if a game is backward compatible or not, and buy it off of eBay. Don't spend $30 on Bound By Flame on Xbox 360, or $20 on World At War or Bayonetta--get em in a bargain bin somewhere.
Oh and once you see how much a game costs in the Backward Compatible Games on Demand storefront, you can't just press B and exit out. You have to select and hit Cancel, which is, of course, close to the "Buy" button. Real slick move, Microsoft.
Call of Duty: World at War is coming to Xbox One Backward Compatibility today. Now, all back compat COD titles are purchasable on Xbox One pic.twitter.com/NsLkdJJGqu

— Larry Hryb (@majornelson) September 27, 2016
Related Tags