Just as we're recovering from the massive $1650 price of the Core i7-6950X, we're now seeing leaked benchmarks of Intel's upcoming Kaby Lake-based Core i7-7700K processor.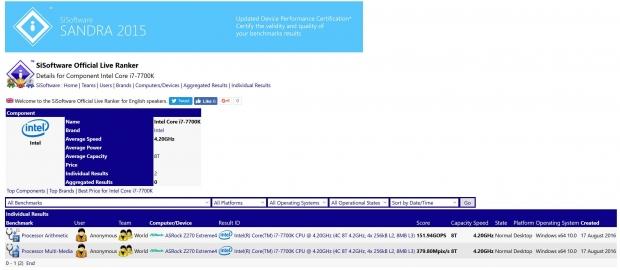 Some CPU benchmark results have been spotted on SiSoft SANDRA 2015, with the Intel Core i7-7700K processor rocking a default clock speed of 4.2GHz, and a Turbo Boost frequency of 4.5GHz. The Core i7-7700K looks like it might feature 8MB of L3 cache, and of course - HyperThreading technology.
We can expect a refreshed Z270 chipset that will co-exist with the current Z170 platform, meaning that LGA1151-based boards might support the new Kaby Lake processors with a simple BIOS update.
As for the performance of the Core i7-7700K, we're looking at just under 10% more performance over the older Skylake-based Core i7-6700K. The Core i7-7700K scores 151.94 FOPS in SiSoft SANDRA's "Processor Arithmetic" performance, while the older Core i7-6700K scores 140.88 GOPS. Comparing its "Processor Multimedia" score, the Kaby Lake-based Core i7-7700K is capable of 379.8 Mpix/s, while the Core i7-6700K scores 353.8 Mpix/s.
Is the upgrade to the Core i7-7700K worth it for existing Core i7-6700K owners? Probably not, unless there are some changes that we don't know about in the upcoming Z270 chipset.