No Man's Sky concurrent players tanks by 90% on Steam
The ship that is No Man's Sky is crashing, and gamers are fleeing the wreckage in escape pods.

Published Thu, Aug 25 2016 8:19 AM CDT
|
Updated Tue, Nov 3 2020 11:58 AM CST
Steam gamers are ejecting escape pods from No Man's Sky crashing ship, likely due the game's notorious over-hyped and underwhelming content.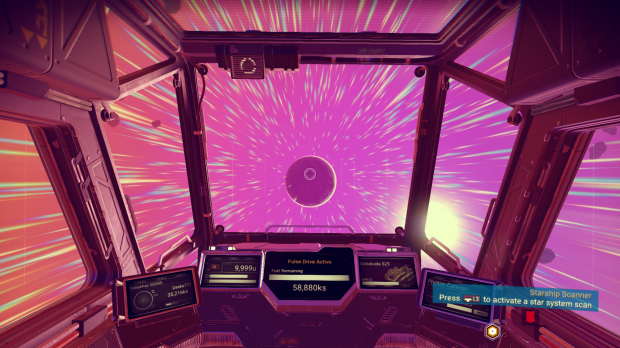 When it launched just weeks ago, No Man's Sky peaked at an incredible 212,620 simultaneous users, making it the biggest Steam release of 2016 in concurrent players. Since then the game has been bleeding players left and right.
According to SteamSpy and SteamDB, just two weeks later after its launch, No Man's Sky's concurrent Steam playerbase has dropped by 90% to just 19,336 players. Just four days ago we reported on a 78% drop in No Man's Sky Steam gamers, and it will be interesting to see how many more players jump ship in the coming weeks.
To put this info in context, a good portion of games have a drop in concurrent players weeks after release. XCOM 2, which was lauded as a worthy sequel, dropped from 133,020 players at launch to 48,201 just a few weeks later. So this drop isn't exactly uncommon, but No Man's Sky is controversial for deceiving gamers with misleading content that isn't found in the actual game.
Even still, No Man's Sky's rather empty sandbox that's been aptly described as "wide as an ocean, more shallow than a puddle" is a huge reason for players losing interest. The game was missing so many features that were hyped and shown on the scripted E3 2014 demo, and Hello Games' Sean Murray misled players with outright lies.
Hello Games promises to update No Man's Sky with new content over the coming weeks, adding in features like base building and letting players own giant space freighters, but it might be too little too late. Gamers are moving on--with a portion of frustrated PC players issuing refunds on Steam--but they might be willing to jump in and check out some new features when they arrive. Sadly, No Man's Sky needs probably a dozen patches before its anywhere close to what gamers expected.
If you're unsure why gamers have abandoned Hello Games' space sim, check out our official No Man's Sky review for answers.
Related Tags