Halo PC project Installation 01 looks incredible
The fan-made Halo PC project has made some incredible progress over the last few months.

Published Wed, Aug 24 2016 2:11 AM CDT
|
Updated Tue, Nov 3 2020 11:58 AM CST
Installation 01, the ambitious fan-made project that aims to bring a quality modern Halo game to PC, has made some amazing progress so far.
The creators of Installation 01, the fan-made Halo PC game, have released a brand new ViDoc that shows just how far the team has come in the past few months, and the results are absolutely stunning. Installation 01 isn't officially licensed from Microsoft, it's being made by a dedicated team of 30+ developers and fans, but that doesn't mean the game is ramshackle: the footage shows rather impressive 3D modeling work, physics programming, smooth animations, lighting effects, and pretty much everything else you'd expect from an actual AAA experience. The team has even done their own mocap work for Installation 01--that's some serious dedication.
The free Installation 01 Halo game aims to mix "all the best from existing Halo games", offering campaign, online multiplayer, Firefight modes, Forge, custom games, and maybe even a theater mode. Installation 01 will have full-scale maps (both original Halo maps and new ones) with vehicles and classic Halo weapons, completely with varying playlists like Big Team Battle, Multi-Team, Team Deathmatch and so on.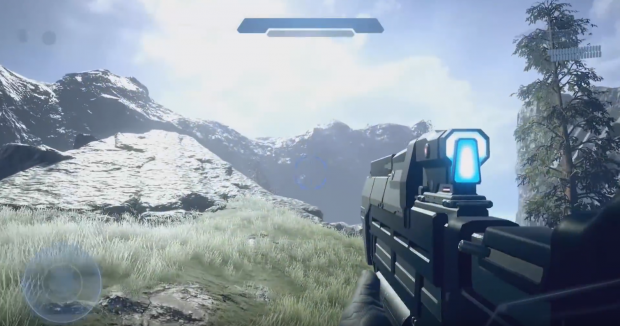 Think of Installation 01 as kind of like a big mod that's being built from the ground up, using assets from the original game to finally make a worthy Halo PC port. But Installation 01 is a homage to classic Halo games: that means no sprinting, thrusters, or other Spartan abilities found in Halo 5.
"This is a fan-game. This is for the fans, by the fans. We know what the community wants because we are part of that community. I'm really excited just to share this game with people and show people what we've been working on," said Austin B., who handles 3D animation and 2D art for Installation 01 .
Installation 01 is a long way from finished, but the dev team hopes to have a public build available sometime in 2017
"We'd like to include several well-made maps and a solid arsenal of weapons and multiplayer modes in our first public build. Depending on how many more artists and programmers join the team, we are looking at an 5-8 month wait until our first publicly available build. However, there will be more trailers and information released as we progress," the devs said in a FAQ post.
For more info on Installation 01, be sure to drop by the game's official website. 343 Industries is also hosting Installation 01's forum, so it looks like 343i and Microsoft have given their blessing to the team.
Related Tags