True to its word last week, Microsoft has altered the Windows 10 upgrade notification for Windows 7 and 8 users to be more clear and actually stop nagging you when you tell it to (at least it appears that way). However, as part of the alterations, the notification now goes fullscreen.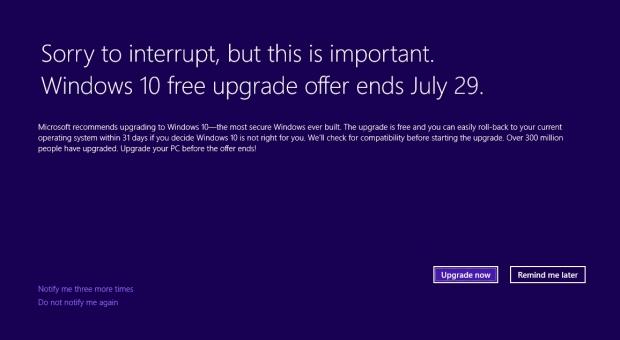 Your options upon seeing the message include upgrading, delaying the notification for another three days, setting the notification to go off three more times, or permanently dismissing the notification.
Microsoft notes the notification will not appear if any of these things are true:
You have a recent version of the "Get Windows 10" app installed.

You have selected the Do not notify me again option.

Your computer is detected to be incompatible with Windows 10.

You have previously uninstalled Windows 10 after you upgrade.

Your Windows 10 installation failed and rolled back.

You have hidden the "Get Windows 10" app notifications.

You have disabled the Windows 10 upgrade or you have disabled the offer screen through registry key settings.
So while it has become more aggressive, it's more respectful in other ways.