UPDATE 2: Thanks to a leaked Xbox store listing we're able to confirm that Destiny's Rise of Iron will raise the Light level cap, The Taken King is required to play the DLC, and the expansion takes up 14GB of free space on Xbox One. Here's the official store description for the DLC, and check below for the leaked store listing:
"Destiny Rise of Iron is the next highly anticipated expansion to the Destiny universe. The wall which stood for centuries along the southern border of Old Russia has collapsed. Fallen mutants now scavenge the tombs of the Golden Age, and the plague they have unearthed in the wastes is more dangerous than even they understand. Join Lord Saladin. Journey into the Plaguelands. Learn the fate of the Iron Lords and stop the growing threat before it is too late."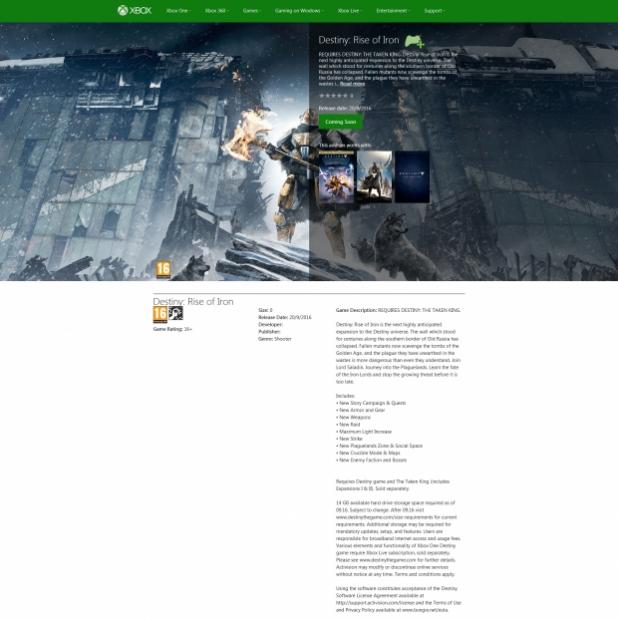 UPDATE: Activision has taken down the original leaked trailer, but we've found another mirror for the clip. Please excuse the loud dialog at the beginning!
The leaky E3 faucets keep on flowing, and now we've spotted the leaked trailer for Destiny's new Rise of Iron expansion.
Although Bungie plans to unveil Rise of Iron at 10AM PST / 1PM EST on their Twitch channel, there's not really any more secrets left for the expansion. We know it'll come out on September 20, and that it's going to skip last-gen consoles in favor of PS4 and Xbox One. Now the official Rise of Iron footage has been leaked on Reddit, showing off some of the new weapons, armors, activities and enemies featured in the expansion, including the strange Vex-Fallen hybrid warriors that felled the legendary Titan Iron Lords.
Close-eyed Destiny players will notice the game's infamous Gjallarhorn rocket launcher is returning in the expansion, and if you pre-order the expansion, you'll get access to the "Iron Gjallarhorn". Don't feel too special, though--Bungie is giving everyone the new heavy weapon as a quest reward in the expansion. Check below for a transcript of the trailer, screenshots, and more info on what Rise of Iron includes.
"We thought we were indestructible, The Lords of Iron. We swore we would do anything to protect the Last City. Some of us paid the ultimate price.. I am all that remains. We thought we had sealed away The Plague for eternity.. But now it has returned, and this time with a Fallen Army! It is time to avenge my brothers and sisters. Stand with me guardian, prove yourself worthy, and the Iron Lords will rise again!"
Rise of Iron is slated to launch on September 20, 2016 on PS4 and Xbox One, and includes the following:
New Crucible Maps

New Story Missions

New Zone

New Strikes

New Weapons and Armor

Iron Gjallarhorn rocket launcher

New Raid Activity