Destiny to start phasing out last-gen consoles in new Rise of Iron DLC
Destiny's new Rise of Iron expansion isn't coming to last-gen consoles, and requires The Taken King in order to play.

Published Wed, Jun 8 2016 2:41 PM CDT
|
Updated Tue, Nov 3 2020 11:59 AM CST
Destiny's new expansion may skip last-gen consoles entirely as Bungie and Activision prepare to thoroughly phase out the PS3 and Xbox 360. If that wasn't enough, you'll have to own The Taken King expansion to play Rise of Iron.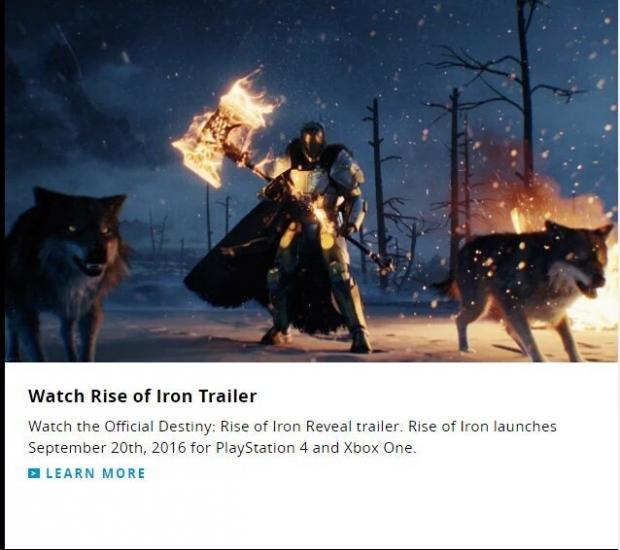 Destiny's new Rise of Iron expansion releases on September 20, 2016, according to leaks from Twitter user @MoreConsole, but what's even more interesting is last-gen versions are missing. This could mean PS3 and Xbox 360 owners are getting edged out of future content for Destiny, and Destiny 2 in 2017 will likely be on current-gen consoles only (and likely PS4K).
What's more is that Rise of Iron will require both Destiny's The Taken King mega-expansion and the base-game in order to play. That's right--The Taken King is basically now Destiny's base game, and you won't be able to play Rise of Iron if you own the regular version. A recent leak from Xbox Singapore also revealed that the Rise of Iron will feature the following:
New Story Campaign & Quests

New Armor and Gear

New Weapons

New Raid

Maximum Light Increase

New Strike

New Plaguelands Zone & Social Space

New Crucible Mode & Maps

New Enemy Faction and Bosses
Given how Bungie has pretty much forced gamers towards buying previous DLC expansions by extremely limiting base-game content, I can't say I'm surprised with these tactics. I know that last-gen consoles need to be phased out eventually, but this cuts off a whole portion of your audience without any warning. Plus I really find Activision's strategy to constantly shift players towards paid content to be smarmy--but remember that Rise of Iron will be free, and it's only The Taken King, the base game, and previous expansions that cost money.
Bungie plans to fully reveal the new expansion on its Twitch channel tomorrow at 10 AM PST/ 1PM EST, so we'll learn more details there. Remember, too, that there's a chance that Rise of Iron actually is coming to PS3 and Xbox 360, as Bungie has yet to confirm anything thus far.
Related Tags