HBM2 is incredibly small when compared to GDDR5, and even HBM1
HBM2 is simply beautiful in person, even more so when compared to GDDR5 (and even HBM1)

Published Wed, Apr 6 2016 2:04 PM CDT
|
Updated Tue, Nov 3 2020 12:00 PM CST
GTC 2016 - On day two of NVIDIA's GPU Technology Conference, we walked around the exhibition halls with the super-awesome Dimitry from Hardware Canucks and ran into the SK Hynix booth. What did we see? HBM2. HBM1 was there side-by-side with a 1GB chip, while the HBM2 chip was a much larger 4GB chip.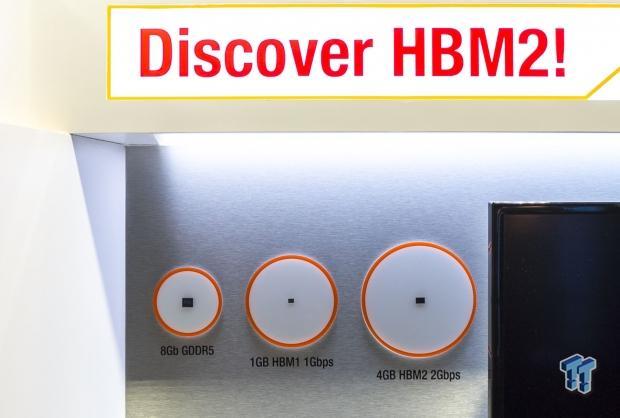 Last year at GTC 2015, we did the same thing and walked into HBM1 - because at the time it was only becoming available, and was still months away from AMD using it on their Fiji-based Radeon R9 Fury X. Fast forward a few months, and HBM1 made its way onto the Fury X.
NVIDIA announced its new GP100-based Tesla P100 video card yesterday, which is the first video card to feature the Pascal architecture, and HBM2. Seeing HBM2 at GTC 2016 was great, as we could see how small it was in person, but we weren't allowed to get close to it - which is why the image isn't exactly up close. If we get closer later in the day, we'll take another photo and update the article.
Remember that HBM2 has bandwidth of up to 1TB/sec, with the Tesla P100 hitting 720GB/sec - an insane jump on the GeForce GTX Titan X with its 334GB/sec (with GDDR5) and even the HBM1-based R9 Fury X and its 512GB/sec.
Related Tags