Well... the fight between Spotify, Google and Apple just heated up with Spotify raising a huge $1 billion - but not from the usual investors and funding methods. It has borrowed $1 billion in convertible debt from TPG, Dragoneer, and clients of Goldman Sachs.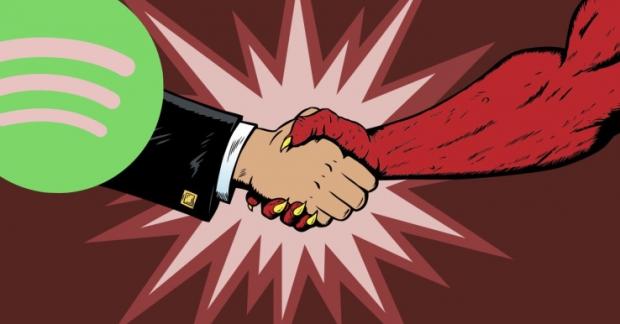 Why is raising debt different than equity? Well, as TechCrunch reports that by "raising debt rather than equity, it doesn't have to worry about poor signaling from a down-round raised at a lower valuation than the $8.5 billion it set in June 2015". Spotify has confirmed the news, with TPG telling TechCrunch: "This financing gives them the strategic resources to further strengthen their leadership position", and that the money will be pumped into growth and marketing.
But what happens if Spotify doesn't do well over the next year or two? Well, this is an aggressive deal with some razor sharp terms - with TPG and Dragoneer to convert the debt to equity at a 20% discount, or whatever share price Spotify sets for its eventual IPO. If the IPO doesn't arrive within the next 12 months, this discount increases by 2.5% every 6 months. Spotify will also have to cough up 5% annual interest on the debt, and 1% more every 6 months up to a total of 10%. Yeah, it's not good at all.
Worse yet, TPG and Dragoneer can sell their shares within 90 days after the launch of the IPO, before the 180-day lockup period finishes for Spotify's employees and other investors. This means that Spotify employees could lose out if the company can't not just compete against Apple Music, but come out on top. This deal gives late-stage investors cheaper shares, and early sale advantages. Spotify employees stock is only valuable if the company succeeds, and it needs this $1 billion to try be successful.
Spotify can come out on top, if it's able to grow its value through the roof, and be successful with its IPO. If it can do that, the early sale terms aren't too shabby. A source of TechCrunch says that the company has around $640 million in the bank, so it wasn't under pressure to loan the $1 billion, but it wanted to raise through debt as it's confident that 2016 will be a big year. The $1 billion allows Spotify to acquire smaller companies, that would allow huge growth.
For example, it could acquire smaller startups to bolster its position in the market - especially with an IPO launch in the future. Spotify is in a very interesting position, with $1.5 billion at its disposal. Let's just hope it doesn't get ahead of itself and begins really chomping down on Apple and pushing into other parts of the entertainment industry.